When was the last time you updated your website's content and knew that it would lead to an increase in your rank on Google? An SEO checklist could be the one tool you need to get this done quickly and start seeing results.
The goal here is to increase your organic traffic over time so that you reach hundreds of thousands of new visitors from search engines.
That's why content and SEO strategies are so important in today's digital landscape.
Why SEO Checklists Help Every Business or Entrepreneur
The truth is everyone hopes that adding good content that's relevant to user queries will lead to landing on the first page of Google, but how do you get into the top 5 results on the SERP?
However, you don't want to use just any checklist. There are hundreds of SEO guides that claim to offer the best way to rank up in Google, but many of these tips come from over a year ago, which isn't updated for the current search engine algorithms and ranking signals.
Part of the reason SEO Buddy works so well is that it's updated after algorithm changes to address changes and add new tips to help their users get around the new roadblocks that Google uses to trip up even the best SEO experts.
After using SEO Buddy's checklist, you'll also have a keen understanding of content strategy, technical markup, and how a standard operating procedure list can help your organization stay on top of SEO in the future.
Take Action with a DIY SEO Framework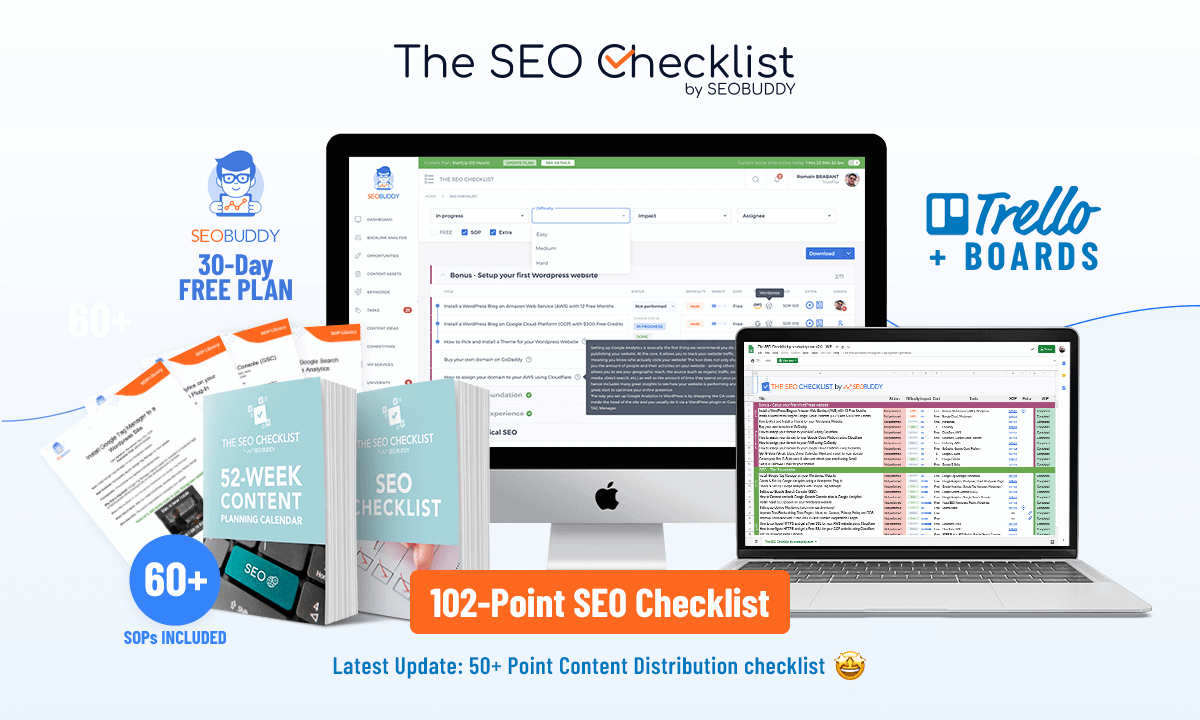 SEO Buddy is an SEO checklist package that comes with over 100 SEO action items, 60+ SOP documents, 40+ content distribution ideas, and more tips than any other guide on search engine marketing currently.
It's one of the most comprehensive packages ever built on SEO, and it goes way beyond any online course or college textbook on search engine optimization. You'll not only learn step-by-step implementation of basic and advanced SEO concepts like on-page SEO and off-page SEO but SOPs are also included for businesses that want to train employees on the exact methods that help websites rank up in search engines.
Finally, backlinks are more important than ever. If you're able to get links and shares from relevant, high-ranking websites and social media profiles, then you'll likely rise quickly in the ranks of Google.
SEO Buddy provides a link chest with over 760 backlink opportunities to cultivate on your own without paying anybody for a scammy link. These are authentic, Google-approved backlink opportunities that can help you rank up quickly.
What's Include with the SEOBuddy Checklist
There's also a difference between the SEOBuddy checklist and standard operating procedure package than your typical SEO guide article online. For one, those are often regurgitated articles that don't include verified information from SEO Experts.
The experts behind SEOBuddy have been working in SEO for over 10 years. They've been through all algorithm updates from Penguin to Panda to Hummingbird and more.
This information is also sensitive and competitive, as it will help any entrepreneur, start-up, small business or individual compete at the same level as a corporation with a whole SEO team.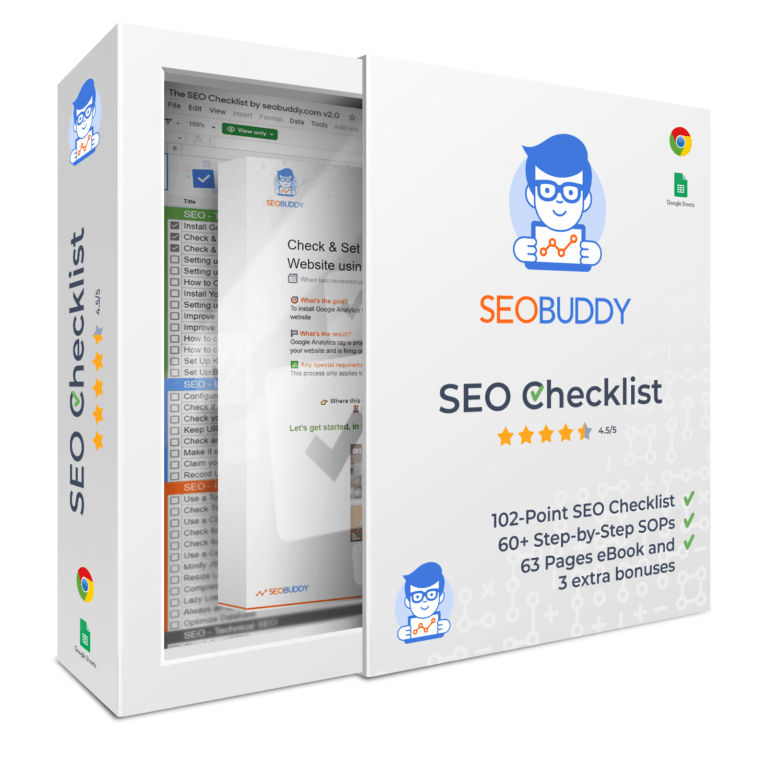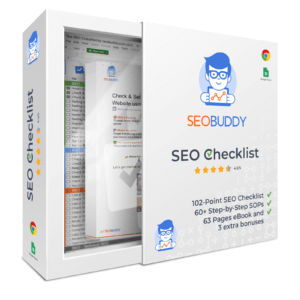 Here's what's included:
100+ SEO action items with step-by-step instructions
The SOP Collection with 60+ SOPs for training and SEO implementation
The Link Chest with over 760 easy-to-win backlinks
Guide to Keyword Research for All Industries
Competitive Analysis Framework
Guide to Scaling Your SEO Strategy
Content Ideas & Distribution Checklist
Constantly Updated & Improved Each Week by SEO Experts
You don't have to have any experience to use this checklist either. All concepts are well-defined and simply explained so that you can pass them on to your team. The SOPs provide step-by-step training instructions as well.
Who is SEO Buddy Best For?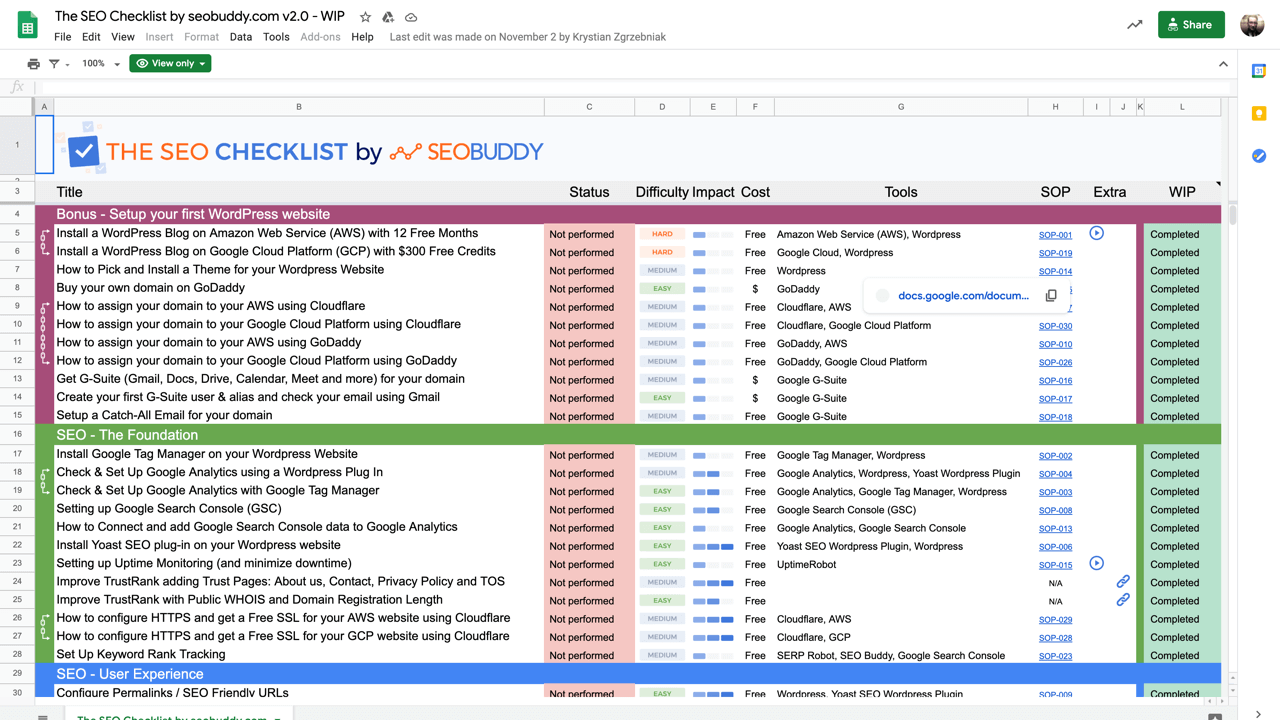 No matter what the industry or business size, SEO Buddy is a tactical, executive-style, professional package that anyone can use to implement a cohesive SEO strategy that's guaranteed to help your business rank up, especially on competitive keywords.
Content ideas and keyword research are a major piece of this package, too. If you want to improve how your content ranks as well as how it reads, then you'll have everything you need, including topic ideas for your blog based on keywords that matter for your business.
The instructions are also incredibly easy to follow, and SEOBuddy provides support and clarity for any step that you're not sure about. While the checklist is actually a sheet with over 100 action items, each item links to a document that guides you on the exact method to perfect implementation.
You can't go wrong using this list to fix up your SEO.