Are you planning on building a custom PC and looking for the best custom PC builder website to help you out with the compatibilities of PC parts? There are plenty of pc building websites available, but not all of them are trusted & accurate when it comes to checking the compatibility of PC parts. As a result, many new users fail to build their own PC due to confusion in choosing the best PC parts.
Building a custom PC isn't that hard, but building a pc without using any PC builder website takes a lot much effort and time, and many of the times, we miss tiny details, which becomes an issue later. So what's the harm in using the tool to make our PC easily.
I also build PCs and have a massive knowledge in this matter, but still, I prefer to use a pc building website to help me out in the process because we humans can miss out on some of the small details which a tool can't miss which can save us from any problem while building a PC.
There are thousands of PC parts available to choose from, which makes it a lot more difficult to choose which product to buy, so in this post, we are going to discuss some of the best custom pc builder websites which can help you to choose the best parts for your dream PC.
9 Best Custom PC Builder Websites in 2023
There are various PC Builder websites present in the market, so here I am sharing only the best and personally tested tools that will help you build your PC in minutes.
1. PC Builder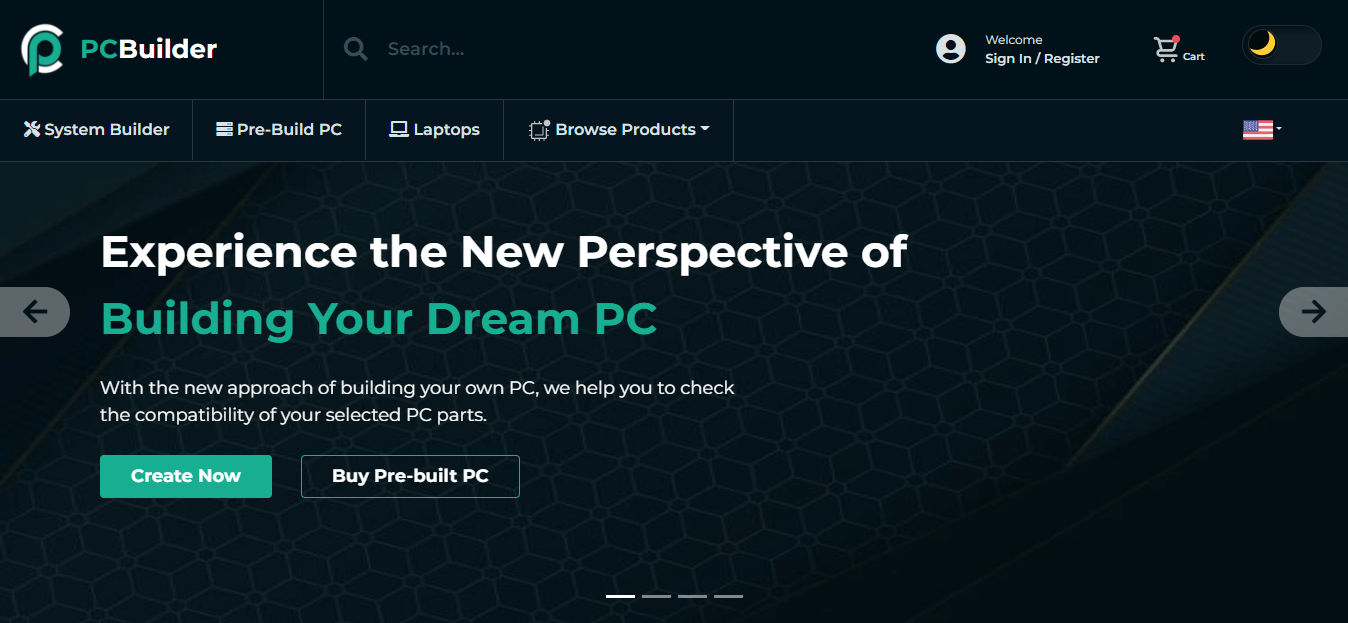 PC Builder recently came into the market in August 2020, but its sleek design and the choice to select the components from the list of various pc parts is what make it more interesting.
If you wonder why PC Builder is top of my list, it's because of its algorithm, which provides the best pc part according to its pricing and performance. PC Builder website provides pc components to its users based on their performance, which helps a new user to end up choosing the best pc part for its rig.
PC Builder provides its users with amazon links for the parts, and it is currently available in 6 countries, including the United States, Canada, United Kingdom, Italy, India, and Australia. Still, it's planning to grow to more countries soon with more components and its own e-commerce company.
As of now, the PC Builder website has 9.6k+ components and claims to have more than 800k users on their website, which shows a significant number of trust of the users. You can check their tools with the link given below.
Pros
Free and easy-to-use tool.
It provides all the PC parts directly from Amazon.
It supports USA, UK, Canada, Australia, Italy, and India merchants.
Cons
Currently, not supported worldwide.
It only provides products from amazon, and no other merchant is available.
2. PCPartPicker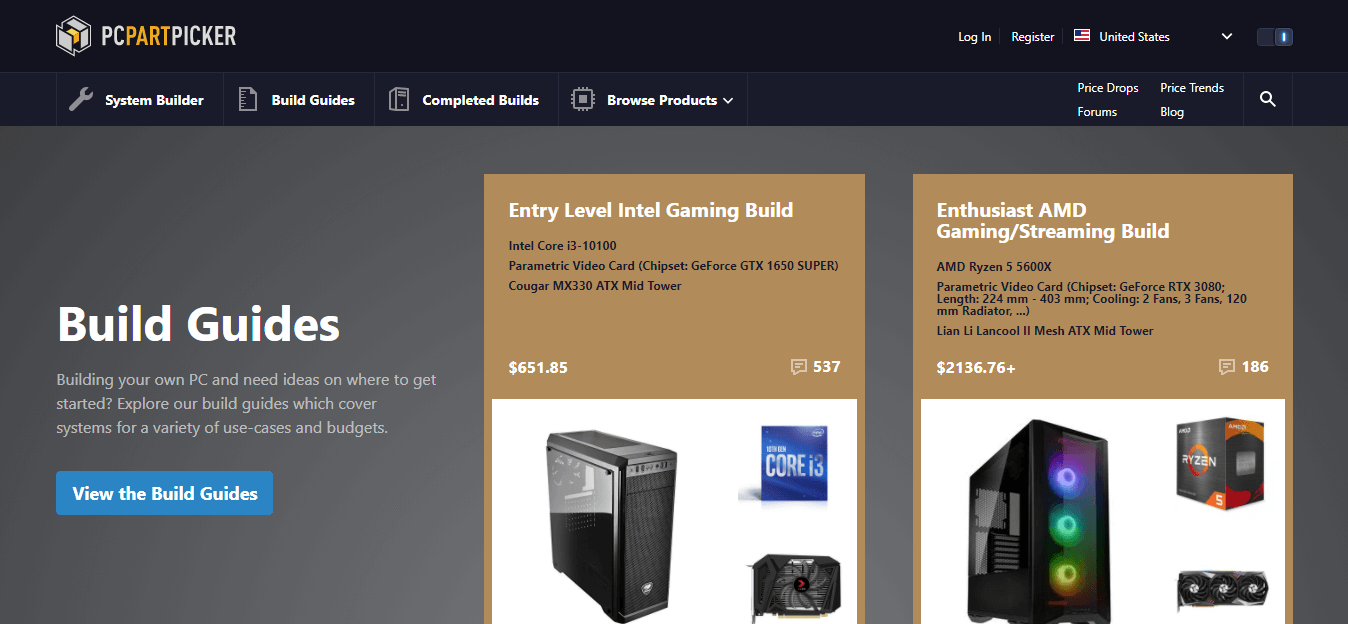 If you have ever built a custom PC, then you must have known about the PCPartPicker. PC part picker website came into the market in 2010 and is known as one of the old and trusted websites to build a custom pc online. PcPartPicker is one of the best custom pc builder websites that provide a system builder to select all the components to build your rig and options to choose from various merchants such as Amazon, Adorama, Walmart, Newegg, etc.
Besides the custom pc building tool, pcpartpicker also provides the option to feature your rig and photos of your build to their website, which can be viewed and bought by various users. So if you are having difficulty building your pc, you can view the builds of others.
PC Part Picker also has its own forum where you can ask for any query to the community, and users will help you out to solve your queries. Other than that you can also use these price drop feature to help you know the pricing of its various components and also enables you to set the price drop for any of the component.
PcPartPicker has various other features to help its users build their custom pc, so check it out by visiting their website for yourself.
Pros
It is one of the most trusted pc building websites available.
Large community support.
It provides products from various merchants.
It is supported in almost all of the countries.
Cons
It doesn't have an e-commerce.
It doesn't provide a facility to provide an assembled pc.
3. Origin PC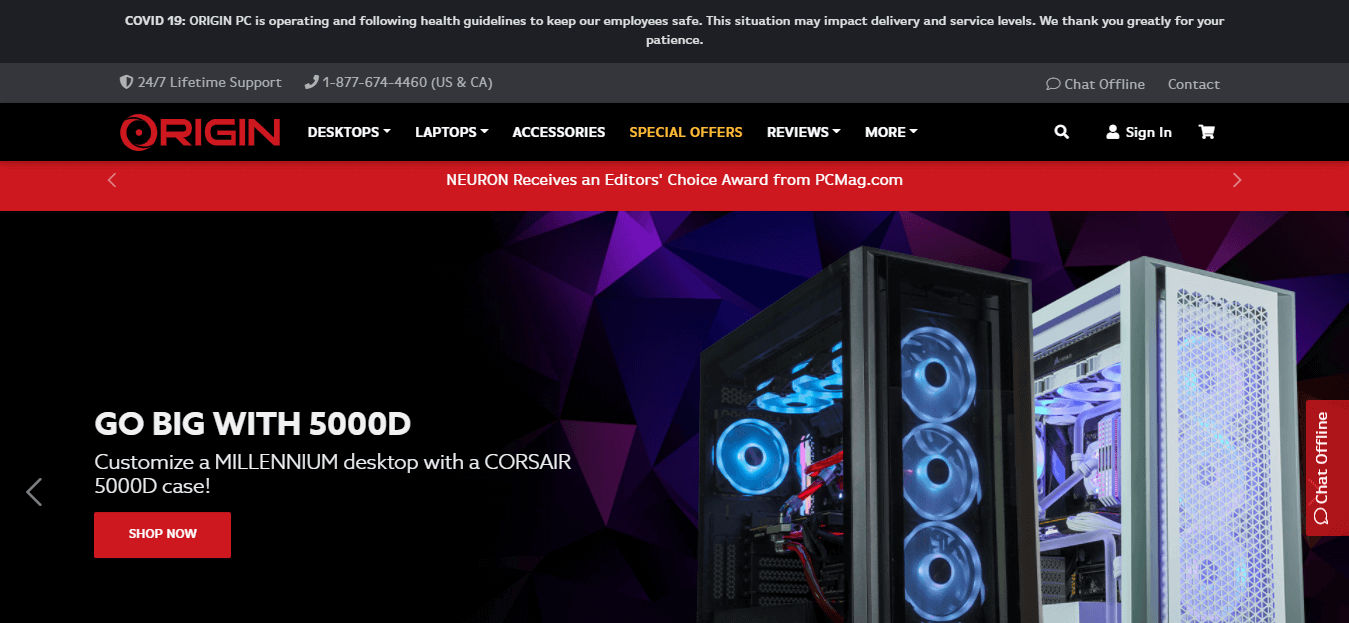 This website was founded in 2009 by a group of 3 people who worked for Alienware and later on started their own dream project of Origin PC. As of now, Origin PC provides custom desktops, custom laptops, and various accessories for your PC.
Origin PC has its own custom PC builder tool to help you customize and configure your own PC using the various components provided by the origin PC. However, the customization is limited to its own components, and there is no option to buy low-tier systems.
The Origin PC computers start at the least amount of $1,657, whereas laptops start at $1,760. If you are low on budget and can't afford thousands of dollars for your PC or laptop setup, they also provide you with various financial options to buy your setup in monthly installments.
You can check the desktops and laptops the Origin PC provided at the link below.
Pros
It comes with 30 days money-back guarantee and a lifetime free tech support.
Worldwide shipping available.
Easy Financing option available.
Cons
Not much budget-friendly.
Origin PC Desktops Origin PC Laptops

4. Build My PC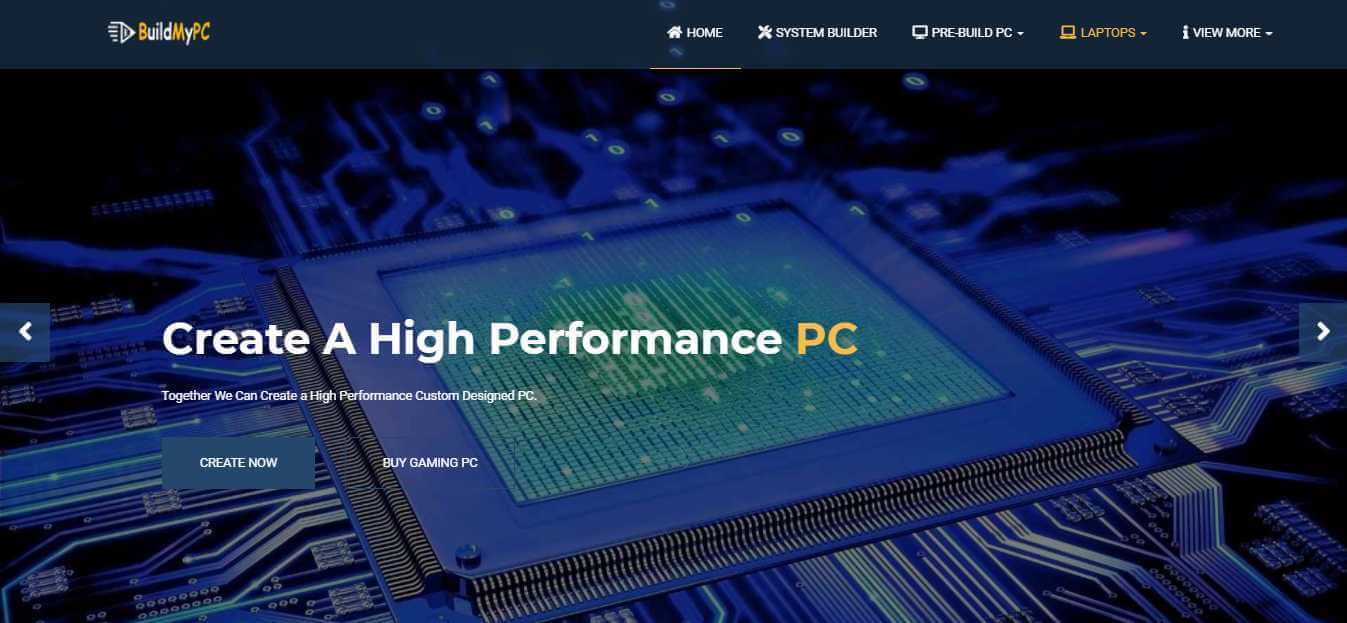 BuildMyPC is also a custom pc builder tool that helps to build a pc by selecting the pc parts from the given list of components. Build My PC was founded in 2019, and in within just 2 years, it claims to help 750k users to build their own pc.
Build My PC uses various algorithms to provide its user with a compatible pc, and various filters to sort the products accordingly. The only drawback of the Build My PC website is that it uses only Amazon as its merchant, which limited its users to buy products from a selected merchant only.
Pros
Free pc builder tool.
It provides with PC compatibility checker.
It supports the USA, UK, Canada, and India.
Cons
It doesn't have its own e-commerce.
The only Amazon is available as a merchant to buy pc parts online.
5. Micro Center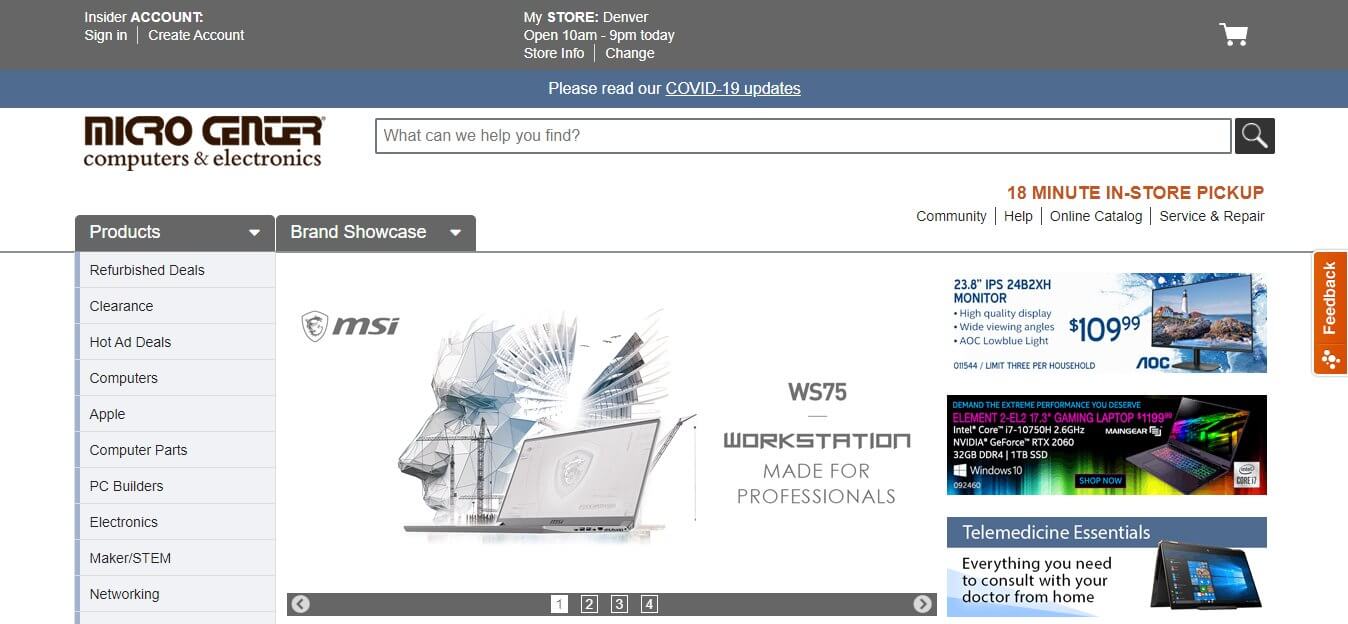 Micro Center is an American computer department store having its headquarter in Hilliard, Ohio. Micro Center only focuses on computers & electronics and currently only delivers inside of the USA. So if you are not living in the US, then this PC Builder is not for you.
Micro Center, being e-commerce, also provides its users with the tool to build custom pc builders to build their own pc without any kind of issues easily.
Micro Center custom pc builder has options to select all the components which are essential to building their pc. It also has a section where you can showcase your custom PC build, which also helps the other new users to view and choose the build of their liking.
One of Micro Center's best features is that if you are in the US, you can visit their offline store to build your pc and buy directly after viewing and confirming your build.
Pros
Best to buy PC's by visiting the store or even online.
One of the best departmental stores and e-commerce to build your pc and buying it instantly.
Cons
Only available in the USA.
6. iBuyPower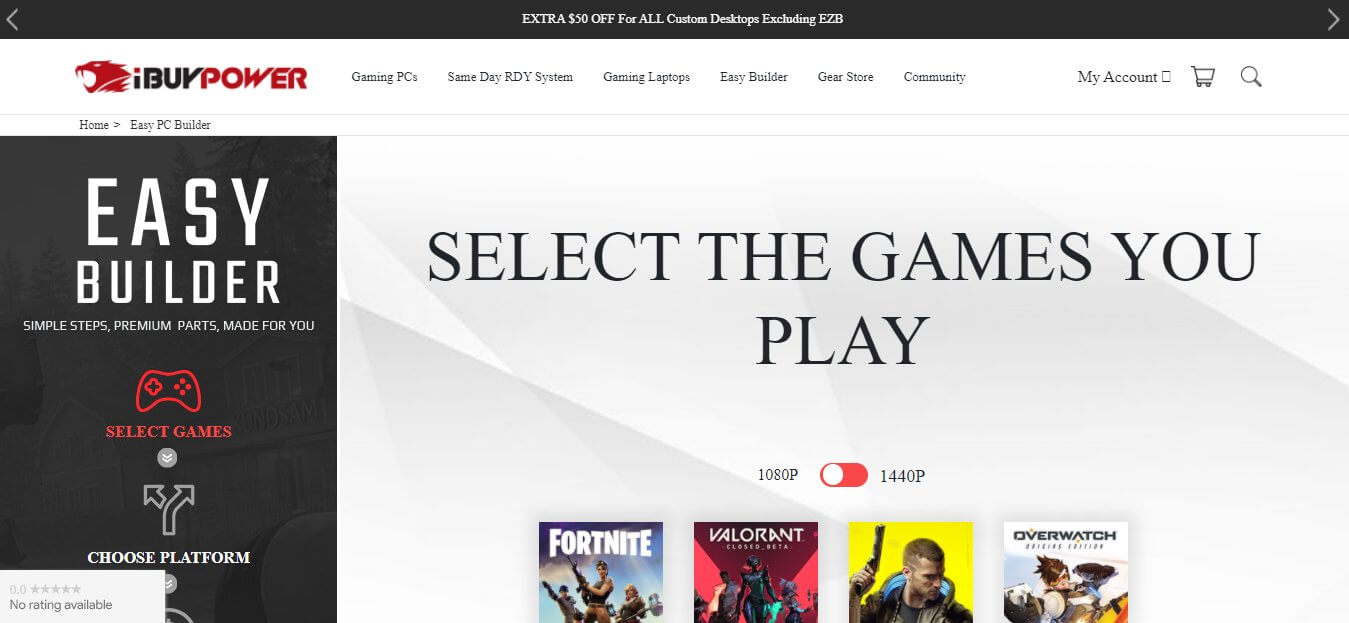 In terms of the best affordable custom gaming pcs, iBuyPower is one of the best choices compared to other brands. iBuyPower was founded in 1999, and until then, it has been growing and is counted amount the best PC provider.
iBuyPower starts its gaming pc at only $599 and laptops from $749. At iBuyPower, you will get the option to customize both the computers and laptops along with easy EMI and delivery options.
What makes iBuPower more unique than the other PC builders mentioned above is that if you are looking to build a PC for playing some particular games, you can select the pcs or laptops compatible with your games.
Pros
There Easy PC Builder tool is one of the best pc building tools to build a pc instantly.
It also has various affordable pre-built PC listed on amazon to buy.
Easy financing and monthly installment option.
Easy to get extended labor or part warranty.
Cons
Their Easy PC Builder is more complex than any other pc builder website.
Visit iBuyPower Easy PC Builder
7. CyberPowerPC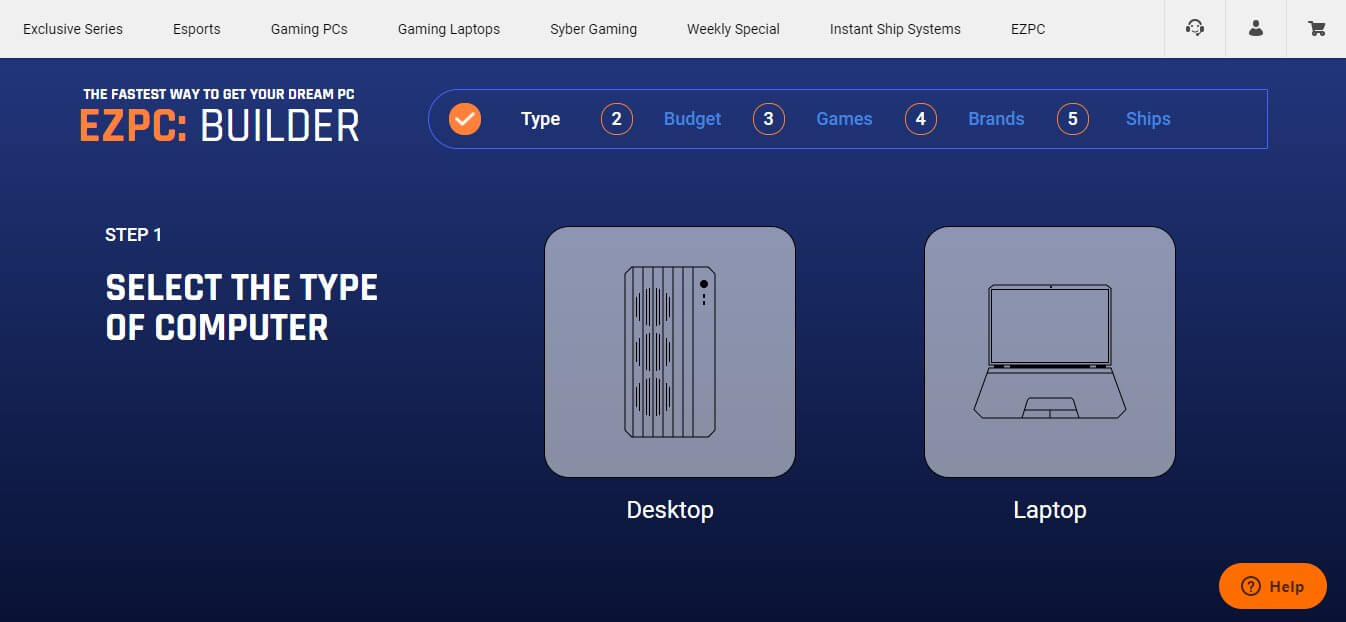 CyberPowerPC provides both a custom pc build and a custom laptop build, and as compared to other pc builder's websites, it provides more configuration and options in your build.
CyberPowerPC was founded way back in 1998, and since then, it has made its name as the best computer or laptop provider. CyberPowerPC is also known as CyberPower. It has base gaming desktops, which start at $769, and gaming laptops starting at $799.
Unlike many of the computer websites listed above, it has an option to pay with Affirm so that you can start paying for your pc later monthly. This is best if you are looking for the best gaming pc or laptop with a limited amount of budget in hand.
CyberPowerPC has various of its models available on amazon also, so you can also buy it from Amazon if you have any trust issues in buying directly from CyberPowerPC. With Amazon, you will also get faster delivery, but you won't have any customization options for Amazon.
Pros
Pre-built PCs are available on Amazon to buy.
Easy finance options are available via Affirm.
It has various customization options to choose from.
Lifetime tech support.
Cons
Shipping is rather slower for custom pc builds.
Visit CyberPowerPC EZPC Builder
8. BLD (by NZXT)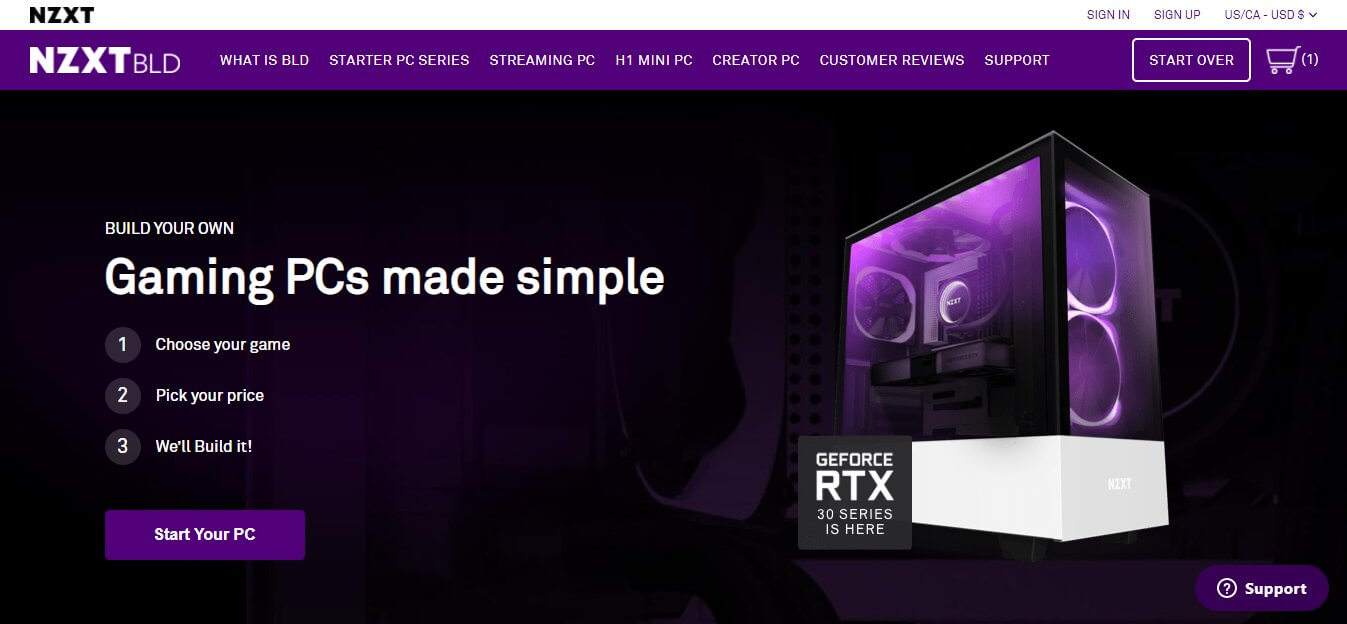 If we are talking about the best gaming pc, then NZXT is one of the finest brands that offer premium pc builds in terms of quality and looks. NZXT makes the best hardware and peripherals and through which it has made its name in the market.
NZXT BLD, unlike the other custom pc builders website, asks a step-by-step series of questions like the games you are looking to play on your pc, about the game resolution you would like to play, whether you are looking for AMD or Intel, your budget. Then according to your answers, it provides you with the best-configured PCs as per your requirement. It will also provide you with the FPS you will be getting in your game.
You can further select the PC from the list it provides and configure it more as you like. You can also select monitor, software, accessories, and peripherals with your selected build, and everything will be delivered to you at your doorsteps after configuring it properly.
Pros
It provides faster shipping as compared to others.
Best in quality and support.
Same-day shipping option also available at $200 extra.
Cons
No pre-built PCs are available.
9. Falcon Northwest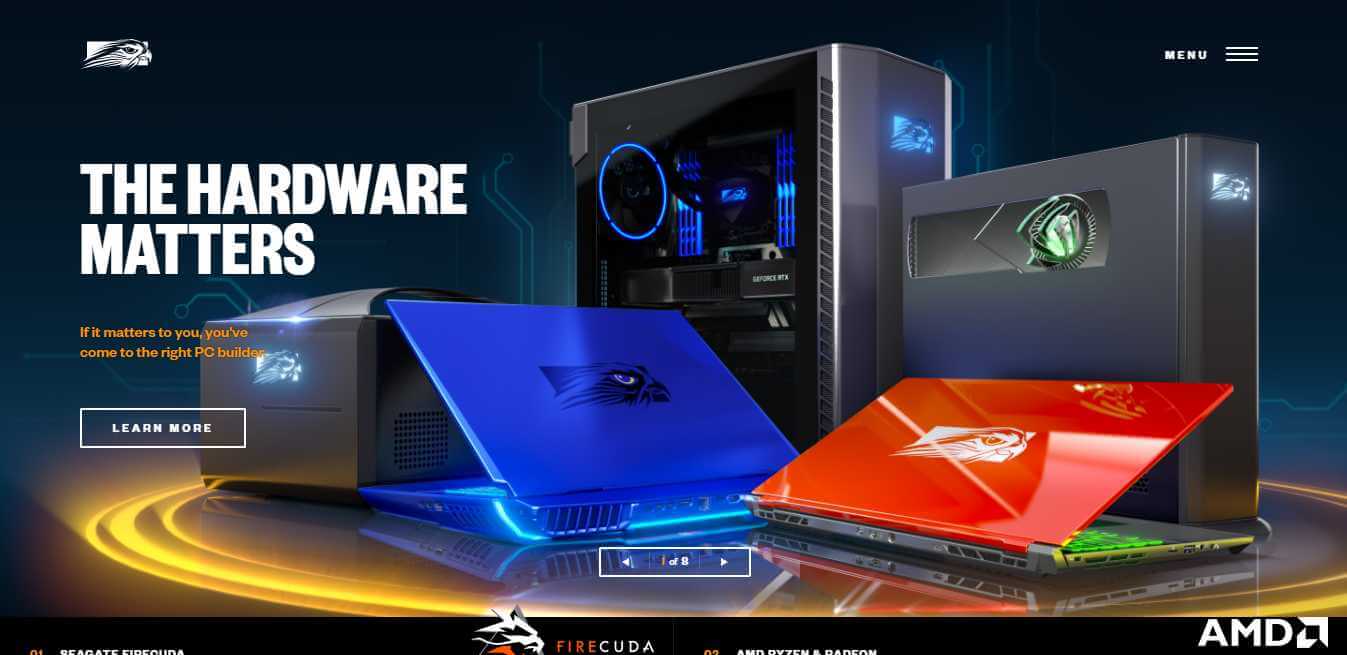 Falcon Northwest is one of the oldest custom PC builder websites in the market. It was founded in 1992, and from then, it has provided custom pc services to its users. Being the oldest in the market, they have earned their trust and made a place in the market.
Falcon Northwest provides both custom pcs and laptops. Their desktops start at the base variant of $2200, whereas their laptops start at the price range of $2500.They provide aesthetics (custom-painted cases) along with customization on the hardware configuration.
The only con I found in the Falcon Northwest is that they don't provide any facility to finance PC or laptops. If you want to buy your laptop on EMI, you have to use a credit card. Otherwise, they directly don't have any kind of finance option available.
Pros
Excellent tech support.
Highly customization gears.
It provides up to 3 years of warranty on most of the parts.
Cons
It has no option to finance the build.
Visit Falcon Northwest Website
Frequently Asked Questions
Here are some of the questions asked by the users.
Is Custom PC cheaper as compared to Pre-Build PC's?
Yes, If you give some time to select the best parts in your rig, you will definitely find a custom-built pc cheaper than a pre-built pc.
What are the essential components for building a PC?
Processor, Motherboard, RAM, Power supply, storage, and a graphics card (if no integrated GPU is available in your CPU) are the only parts to make your system up and to run. You also need a display unit (monitor), keyword, mouse, cooling fans (CPU & chassis), an operating system, and a case to keep everything organized.
Which components should be kept in mind for pc compatibility?
If you are worried about compatibility, then the motherboard, processor, ram, graphics card, and case are some components whose compatibility can cause you to a non-working pc. Also, choose your components' power supply with the minimum supply unit.
Which is the trusted source for buying custom pc parts?
If you plan to buy pc parts, you must always use trusted e-commerce. Some of the trusted sources are Amazon, BestBuy, Adorama, Walmart, BHphotovideo, NewEgg, and MemoryC.
The main reason to buy parts from these sources is that if you find any defect or damage in any parts, you can easily replace or return them.
Should I buy an extended warranty?
In most cases, you will get 1 to 3 years of warranty on most pc parts and builds, so there is no need to spend extra dollars on buying the extended warranty.
Are custom-built PCs reliable?
Yes, custom-built pcs are some more best in terms of performance and even cost much cheaper than pre-built PCs. So it's always best to go for a custom pc as they provide much more customization options.
Wrapping Up!
I hope you find the best pc build for you to buy with the help of the various best custom pc builder websites provided in our post. Just remember to cross-check your pc built you are planning to buy on other tools as well, as there might be some compatibilities issues, which might not be shown on one but might be detected on another tool.
If you have any problem building your pc or have doubts about some pc parts you are using, you can comment below with your query. I am a pc enthusiastic, and I will help you build your rig myself.