There's no doubt in saying that Discord is one of the best VOIP apps for Gamers with over 250 million registered users and growing. Still, sometimes we get errors on discord, such as Discord stuck on connecting or Discord RTC connecting error, which interrupts our gaming experience.
Discord has good client support, but with such a tremendous load, it isn't able to help each one of its users personally, and due to this many of its users get stuck with this situation of discord stuck on connecting, which is too much irritating.
I am also a gamer, and I know how annoying it is to not being able to play with our friends on the Discord server due to such kinds of issues.
So, in this post, I am providing you with easy fixes for troubleshooting any problem which you encounter on your discord app.
Types of Discord Issues
But before going any further and testing all the fixes, just check if this solution covers your problem or not. There are several errors that you can encounter on Discord, which can be easily fixed with the given solutions. Just check out if your issue is included here or not.
Discord stuck on connecting voice.

Discord stuck on connecting to voice channel.

Discord stuck on connecting to channel.

Discord stuck on RTC connecting.

discord infinite connecting.

Discord RTC connecting no route.
If you're here due to any of these issues, then you are in luck. We shared all the best fixes that can solve any of these errors in your Discord app and let you use Discord without any interruption. If your problem is not mentioned here, you may also give it a try, and it might work for you.
How to Fix Discord Stuck on Connecting or Discord RTC Connecting Error
There are various ways to fix your issue. Let's follow them one by one until your issue is resolved permanently.
Check For Outage Problems (Server Status)
This is the first step to solving your issue. Before getting into any kind of fix, we need to check whether the discord currently has any outage issue currently. If so, then there is no need to follow any further fix, and you need to wait until this issue is solved by Discord.
So check for any outage issue in the Discord. Visit status.discordapp.com to view the current status of the Discord.
On that page, you will see the Discord server's live status, and up to 90 days of status is available. The green-colored line means that there is no issue and a red line in the farthest left means that there is an outage issue currently going on in the discord server.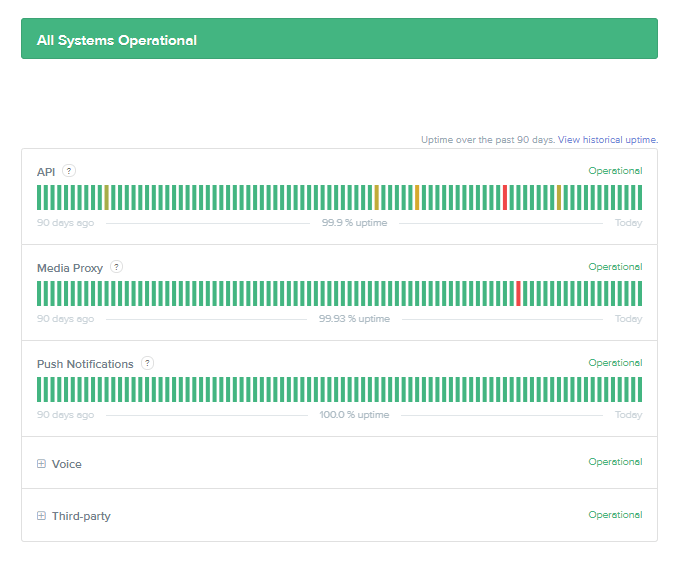 If you see any outage or any maintenance notice on the status page, then there is no way to fix it on your end. You need to wait until they fixed it. You can also follow the Discordapp Twitter page to get details about the kind of further outage or updates about the current issue.
Restart Your Router and Computer
It's the very first fix that works for most of us. You need to exit from the Discord and restart your modem or router and reopen the Discordapp to see if it is working or not. If the problem persists, then you might restart your whole PC for once.
This is a common problem that can occur due to any kind of problem while updating in your discord app or windows, and it will be we automatically get a fix once you reboot your PC. If your problem is not solved, then you can follow the other solutions given below.
Check Your Time and Date Settings
Sometimes the issue may be that simple, but we could not find it if you have not chosen the Windows 10 Set Time Automatically option when a slight difference in your time can also cause these issues.
To check for the automatic settings, click on the Windows Start button, and in the search box, type "Change the date and time," and click on the result.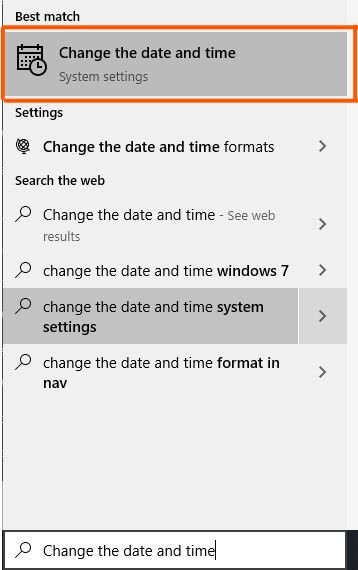 After getting into the setting, check if both the options "Set time automatically" and "Set time zone automatically" are on or not.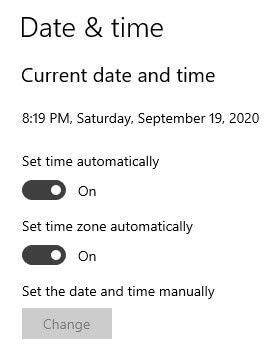 If any of them is not On, then On them and click on save changes. After that, close and exit your discord if you haven't already, and then reopen your discordapp. If the problem still persists, then move on to the next fix.
Disable any Proxy Settings
If you are behind any proxy, you might remove them and try to rerun Discord. Discord is a UDP(User Datagram Protocol) based app, so it is on most of the proxy servers. It might be able to work properly.
If you are not sure that you are behind any proxy, follow the given steps to check.
Disable Proxy Settings For Windows: 
Run -> inetcpl.cpl -> Connections  -> Lan Settings – Uncheck "Use a Proxy"
Open Run Prompt from the Start button or Simply by pressing Ctrl + R and enter inetcpl.cpl in the box and click on the OK button.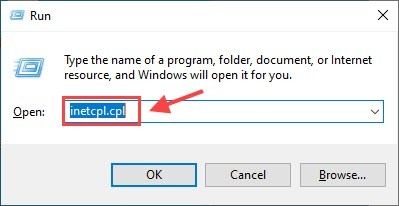 In the open tab, go to the Connections tab and then click on the Lan settings button below.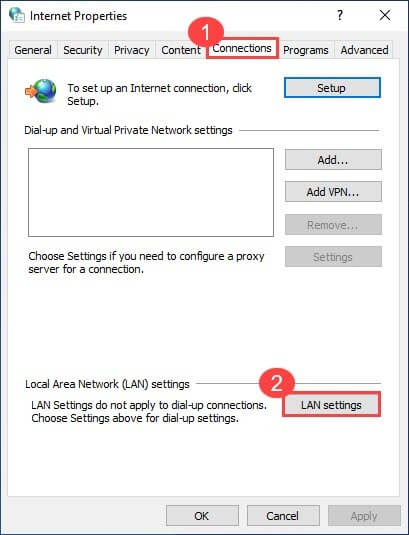 In the last tab, check if you have checked the Automatically detect settings button and unchecked the Use a proxy server for your LAN option and then save the settings by hitting the OK button.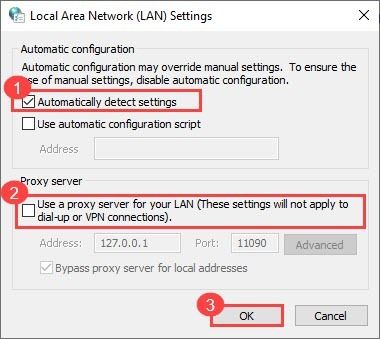 Now relaunch the discord app on your windows, and if you were behind any proxy previously, then this might have solved your issue.
Disable Proxy Settings For Mac OS: 
System Preferences -> Network -> Advanced -> Proxies – Make sure you have no Proxies enabled.
Click on the Apple logo at the top left corner and then select System Preferences, then click on the Network tab.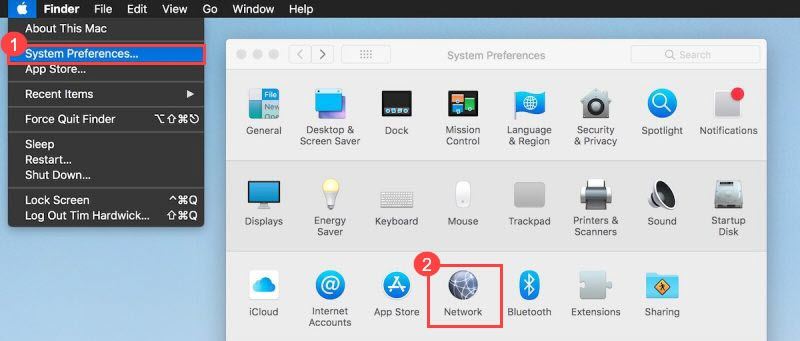 From the left section of the panel, select the "Network Service" you're currently using, and then click on the Advanced button.
Go to the Proxies tab and uncheck all the protocols selected under Select a protocol to configure, then hit the OK button once done. Make sure that you have no "Proxies" enabled under there.
Now try relaunching your Discord app and check if the problem persists or not.
Scan your PC with Malwarebytes
Sometimes some malware or threats can also cause an issue with the working of your discord and may limit the connectivity of your software due to which you can face such issues. So it's better to scan your whole PC with a good antivirus or Malwarebytes Scanner to know if that's the problem.
Malwarebytes is an application that is best to check and remove threats from your PC. Scan your PC with Malwarebytes and if your system has any kind of malware then just remove it with the help of Malwarebytes and restart your PC.
After restarting your PC, check again if you're getting the error of discord stuck on connecting screen, if you have still the same issue, just follow the steps ahead.
Try Changing/Disabling Your VPN
If you are using a VPN service, then you might need to check whether our VPN has UDP or not. Discord only works over UDP, and many of the VPN doesn't use UDP. Some of the best VPNs which use UDP functioning are NordVPN and ExpressVPN.
If you are not using any of the VPN with UDP, you might need to give it a try. The best VPN with UDP option are ExpressVPN, NordVPN and Surfshark. I personally prefer to use NordVPN with discord. You can install NordVPN on your PC and check if Discord works properly or not. You can also try NordVPN for free on your Windows or Mac Systems.
Temporarily Disable your Antivirus Software
If you are using any antivirus on your PC, disabling them temporarily might help you with your problem with discord.
Sometimes antivirus blocks the files or ports used by Discord to access and work properly due to which errors such as discord stuck on connecting or discord RTC connecting may occur.
Just Disable your antivirus virus protection and launch your Discord app to see if the same problem is there or not. If your problem is solved after disabling the virus protection, then you might need to add your discord to the exception list of your antivirus.
Follow the links given below to check how to make discord an exception in your antivirus:
Add Discord to your FireWall Exception
Just like the antivirus, your firewall can also block Discord from working properly, and to check that, temporarily disable your Firewall service.
If, after disabling your firewall service, you are able to use Discord without any issue, then add Discord to the exception list of your firewall and activate the firewall again.
To add the discord in the exception list of firewalls on the Windows search firewall in the search box and click on the Firewall & network protection.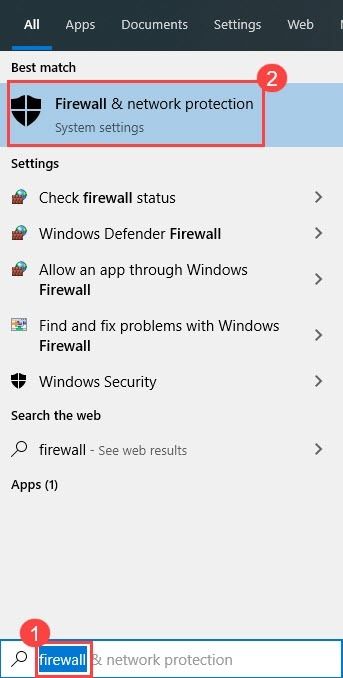 In the panel, click on the Allow an app through firewall as shown.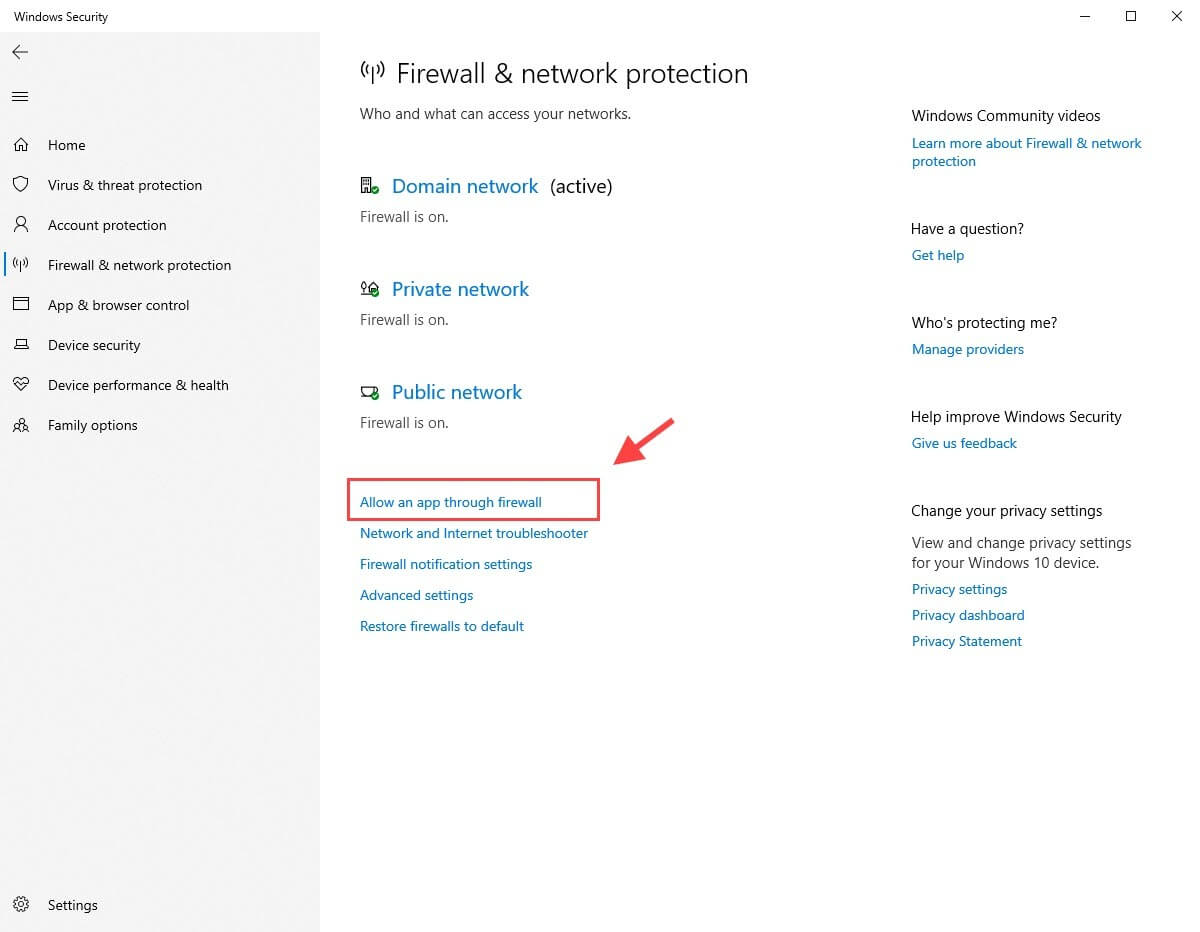 Now click on Change settings, scroll down the list, select Discord from the list, and hit ok.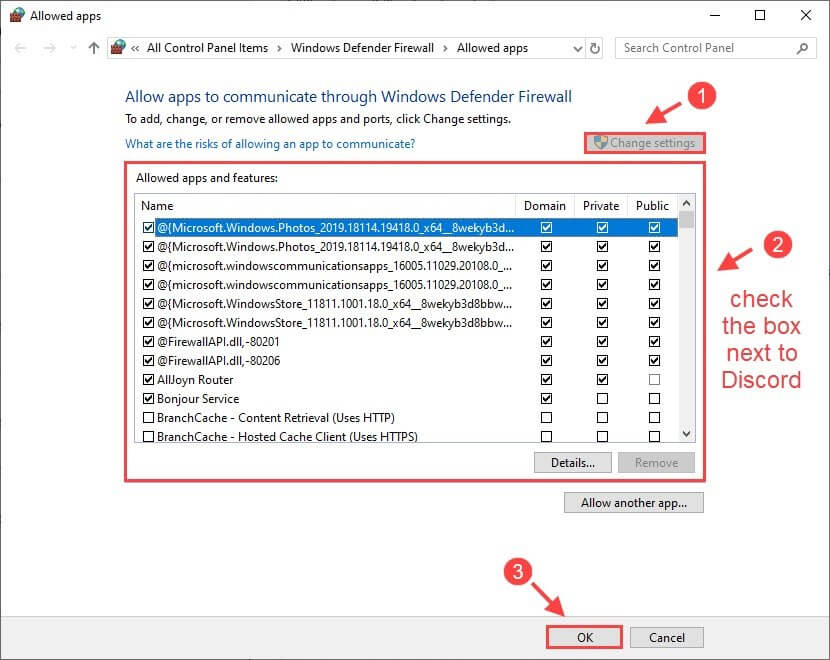 If you weren't able to find discord in the list, then click on Allow another app button and add the discord manually by going to its installation location.
Change your Discord server region
If are able to open and get past connecting screen but still get stuck on the Discord stuck on connecting to voice channel screen then you might try to change the region of your discord, also check if the current discord server region selected in the discord is near to you place or not.
To change your server region in discord try this.
1. Firstly click the arrow given right next to the server name, this will open a dropdown with a bunch of settings.
2. From the dropdown select Server Settings.
4. Under the Server Settings click on the Server Region option which will be at the right side of the screen.
4. Check for the currently selected region in the table and choose any other region from the table and click on the Save Changes button.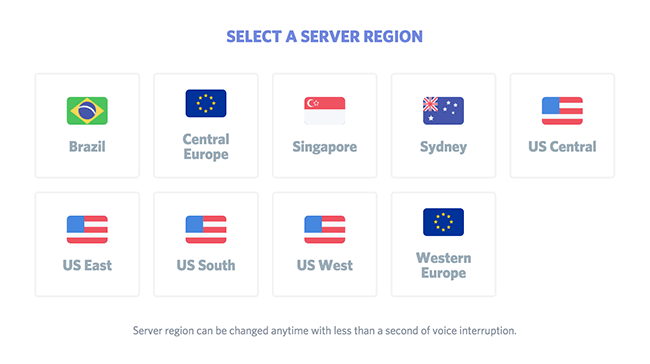 After changing the server check if the problem of discord stuck at connecting resolved for you or not. It mostly happens when the server you are using has a high ping (response time). So it gets stuck on the screen.
Renew Your IP Address
Getting a fresh set of IP Adress while connecting to the internet can also solve many of your issues.
For Windows:
Many of the times, flushing the DNS (Domain Name System) from CMD will solve such issues by regenerating the latest network information for all the DNS of the website and software you are using.
To Flush your DNS, first of all, open your Command Prompt by searching cmd in the search box and right-click on the result, and click on Run as Administrator, and select Yes in the popup.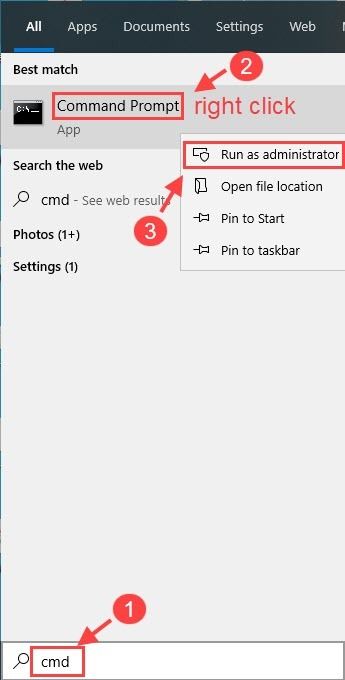 In the command prompt, enter each of the commands one by one and hit enter. (close the discord app if opened already before proceeding)
ipconfig/release

ipconfig/renew

ipconfig/flushdns
After you executed all the 3commands successfully, close the cmd and open the discord app and check if the infinite connecting screen's problem is solved. If the problem still persists, follow the next fix.
For Mac:
Click on the Apple logo at the top left corner as performed in one of the previous steps and then select System Preferences, in the System Preferences then click on the Network tab.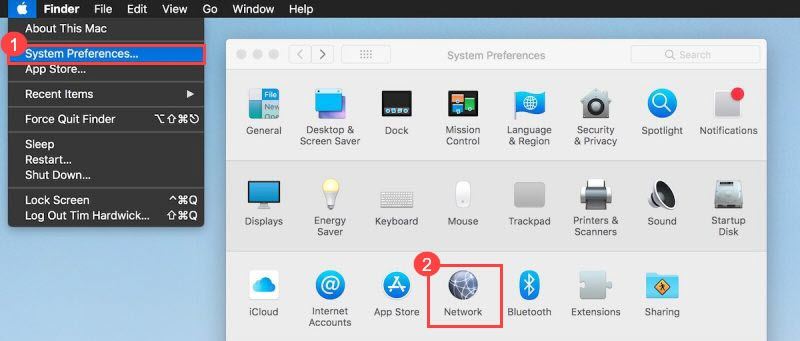 From the left section of the panel, select the network connection that you're currently using, and then click on the Advanced button.
Now click on the "TCP/IP" tab and open it.
Now Click "Renew DHCP Lease" this will change the IP address for our network, now quit System Preferences and again check if your issue is resolved for discord stuck on the main connecting screen. If it's still stuck then try the next fix.
Change Your DNS
Discord works best with Google or Cloudflare DNS. So if you are having an issue while connecting your discord, then you can change your DNS IP.
Steps to change your DNS IP to Google or Cloudflare.
Go to Control Panel and select Network and Sharing Center.
Now click on Change adapter settings and then from the list of internet connections, right-click on the network which you are using currently and click on Properties.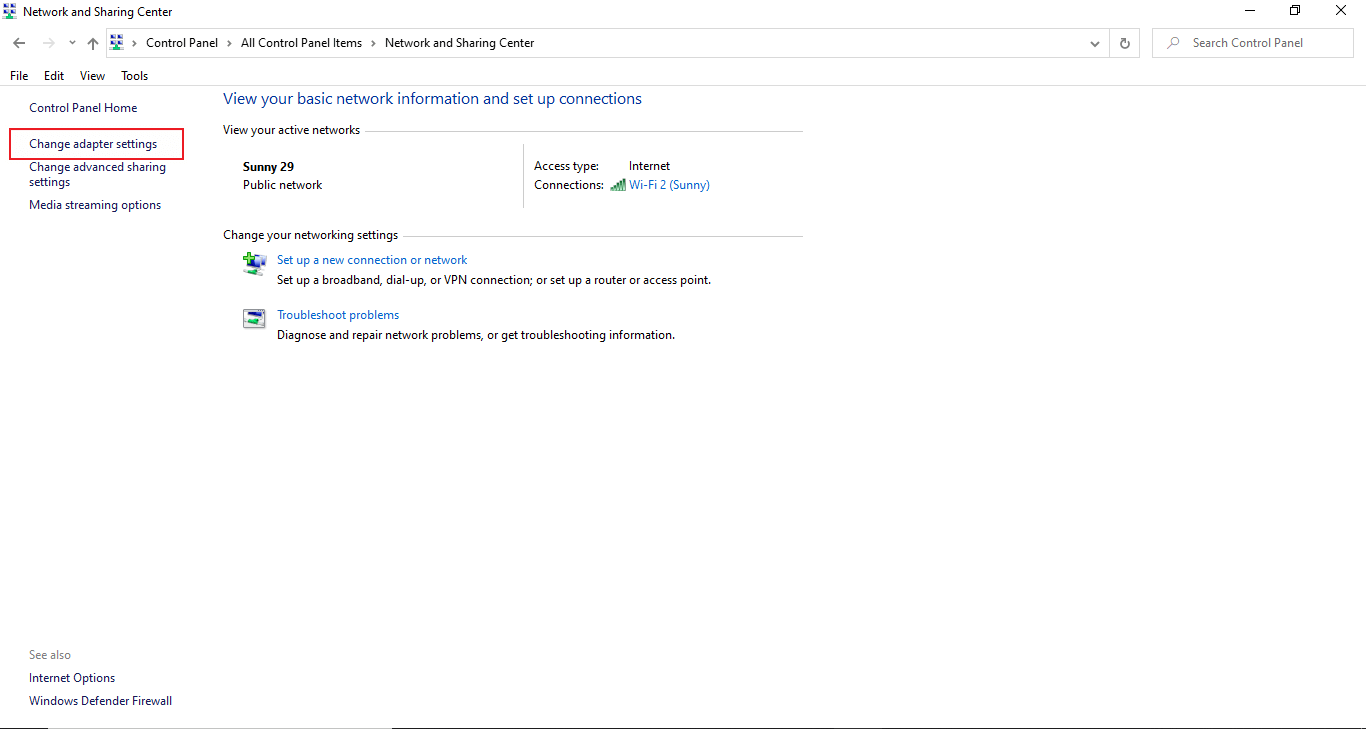 Now double click on the Internet Protocol Version 4(TCP/Ipv4) option from the list.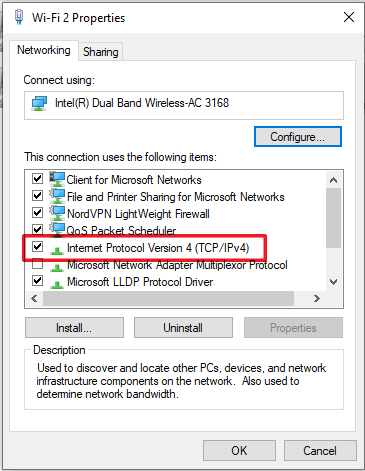 Now click on "Use the following DNS server addresses" and input the Google or Cloudflare DNS.
Google Public DNS IPv4 addresses:
Cloudflare IPv4 addresses:
You can use either of their DNS IP for your system and click ok to save the settings.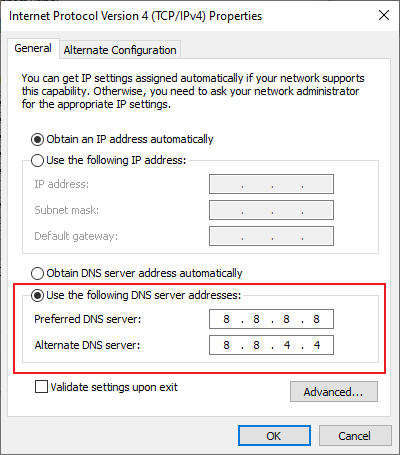 After changing your DNS check if your Discord is connecting properly or not. If you are having the same connection problem with your discord app then follow the next method.
Remove/Disable conflicting apps (such as Twitch, Malwarebytes)
If you are using applications such as Malwarebytes or twitch, then they are known to interfere with Discord. To make sure that they aren't the problem, you need to remove them from your system and then check for your discord app.
If your problem is solved by removing them, then they are the ones causing the issue with your Discord.
If the problem is from Malwarebytes, you need to add your discord to the Malwarebytes exception. To do this click on Setting > Exception Tab > Add an exclusion > Exclude a website > Next > Enter the URL http://cdn.discordapp.com > Hit OK.
It's not only that software can cause this issue, but if you have to install any new software on your PC recently, then you need to remove them and test for your Discord app.
Disconnect from School or Work Network
Discord is usually blocked from the work or school network, or if you were using any of these networks previously then it's possible that they got smarter and block its network recently so it's better to check this once using your own mobile data and check if it works.
If it works on your own mobile data, then they might have blocked its access, you can use VPN services like NordVPN or ExpressVPN which provides the features to unblock it easily.
Perform WebRTC Test
You need to perform a WebRTC test to know if is there anything wrong with your system hardware that might be causing the problem in connecting with the discord properly.
To perform WebRTC Test go to their official website and click on the Start button given at the top of the screen. It will also ask for the permissions for the microphone and camera allow it so that it can test properly.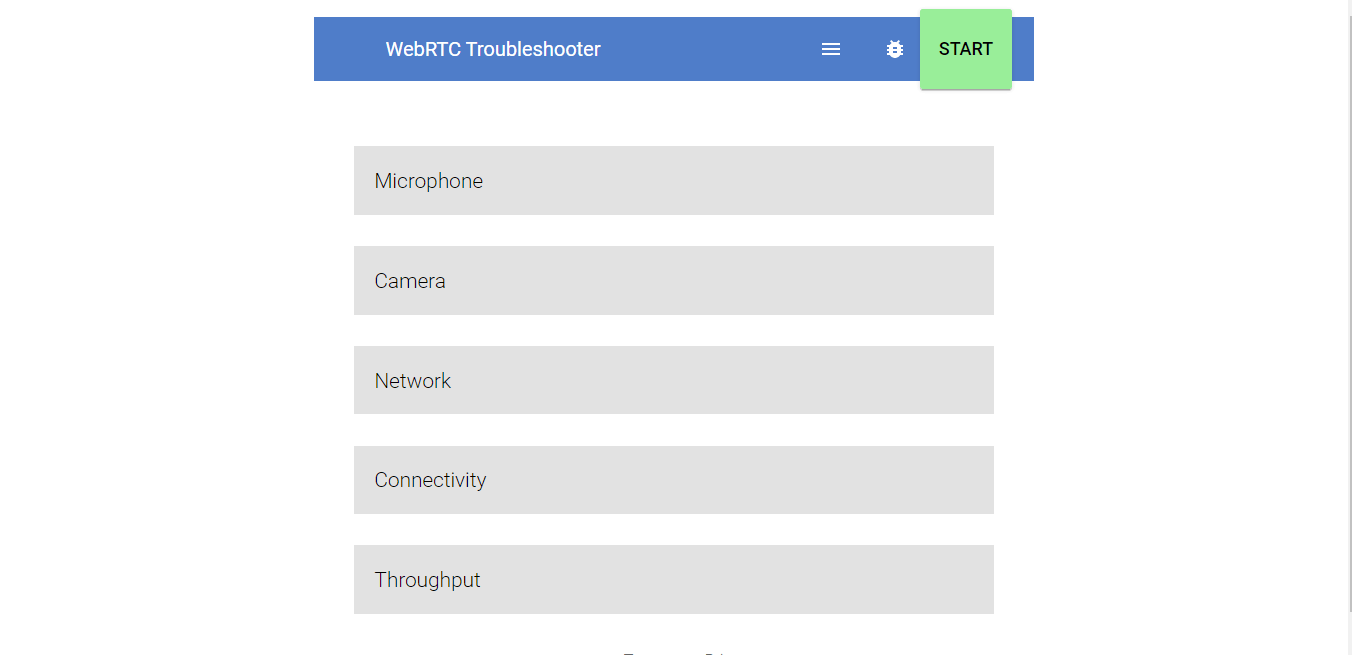 If you find any of the option in red color (with a cross in front) or yellow color (with an exclamation in front) then you need to click on it to know what is the cause of the problem and you need to resolve them so that discord can work properly.
Reinstalling the Discord Client
If nothing works, then the last option is to uninstall the discord app and reinstall it.
This will reset all the cookies and cache of your discord that might be causing this issue. After reinstalling the software again, you will have a new copy of discord on your system, free from any old temporary data or cookies and the roaming files.
After uninstalling your system's discord software, it is advisable to reboot your PC once and then reinstalling the Discord app again on your PC.
Contact Discord Support
If none of the fixes works for you, then the last option left is to take help from the Discord Support team. Just go to the discord support and create a ticket there and explain to them, and they will surely help you. While creating a support ticket you need 2 of these things to submit.
1. You need to take a screenshot of your Console table. Join the voice channel or call in which you are getting the error and press ctrl+shift+i in windows or cmd+shift+i in MacOS to bring up your Developer Tools, and then click the Console tab and take the complete screenshot of the page.
2. You also need a screenshot from test.webrtc.org which we performed in one of our previous steps.
Now you need to wait until the support team reply to you if you didn't get any reply from them in 24-48 working hours you can also reach out to their support team on Discord's Twitter handle.
Conclusion
I hope that you were able to fix your problem of discord stuck on connecting screen or discord RTC connecting and happily enjoying your games with your friends over discord.
If you are still getting any error of Discord RTC connecting no route, please do comment below, and we will surely help you further.
You can also share the method you follow to solve your issue with the discord app.