So you are looking for a method to transfer google play balance to bank account or to any other account. If you are wondering that can you transfer google play credits then I would say that it's possible but it's a tricky method!
Google pay balance is used for in-app purchases for various games, apps, and subscriptions to various other services like youtube premium, other than that there is no other use for this balance. I am sure most of you earned this money using "Google Opinion Rewards".
But when you look for transferring this money to your bank account you will find out that there is no option for the same, but let me make it clear that there are options to do it, but the methods are a little bit tricky. So if you want to transfer your google play balance to your bank account then follow all the steps given below carefully.
How To Transfer Google Play Balance To Bank Account
Transferring your google play balance or play credits or your Google Opinion Rewards into your bank is tricky and as there is no direct option to it then we will be using the third-party apps available on the google play store.
There are 2 apps that allow you to transfer your Google play balance into your bank account but for transferring the amount to your bank or Paypal these apps charge a 40% amount transaction fee. This is a quite higher amount but this is because Google also takes 30% fees from them so they technically only get 10% and as there is no method to use that balance directly then, in that case, it's worth the transaction amount.
Also other than the transaction amount you will also need to wait for 10-15 days before they send you money into your account, they do this so that the user doesn't make a refund within the given period.
There are various apps which you can use for this, I am mentioning the top 2 apps which I used myself.
Warning: Both the apps which I mentioned in this article are third-party, so we won't guarantee their genuineness. I used both the apps in the past and they work for me just fine, but many users have issues with them as per their reviews. So proceed with these apps at your own risk.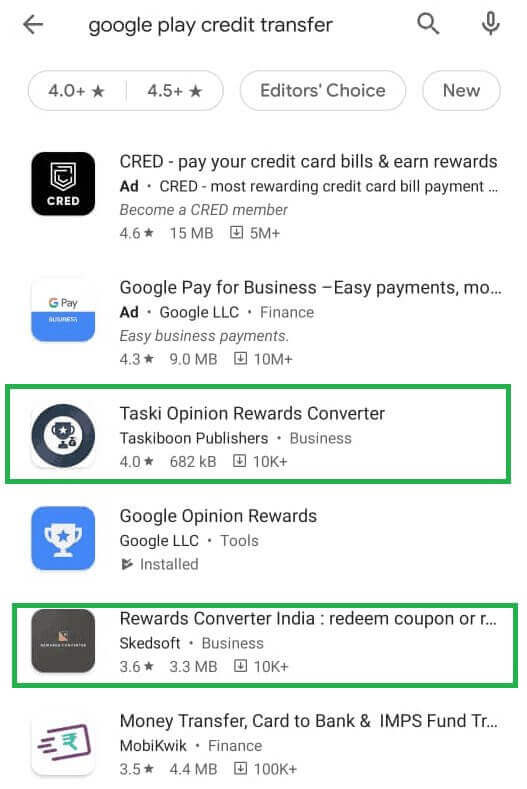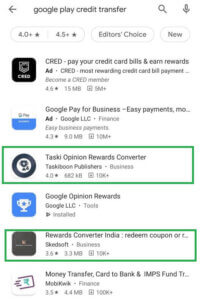 So let's get started with the steps on how to transfer google play balance to bank account or Paypal:
1. Taski Opinion Rewards Converter
This app this one of the app which converter your play credits and provide you with the money into your bank, Google Pay, Amazon Pay, or Paytm.
You need to download the app and signup for their service. They will provide you with the options to make a purchase using your google play credits, once you make the purchase you will be provided the 60% amount into your mode of payment you selected at the time of signup within 7 working days.
Steps to transfer google play balance to bank account:
Download the Taski Opinion Rewards Converter app from the play store.
Create a new account.
Now buy the token amount using the play credits.

Buy token from play credits

In the next step click on the Convert token button for the token your bought.
Now select the payment method in which you want your money and provide the details accordingly.

Select payment option to transfer play credits

Wait for 7 days to process your money into your preferred account.
You need to purchase the token in the app so that they can convert your google play balance and provide you the money into your account. Their token will be equal to the amount you are making the purchase so choose the token amount which you want to withdrawl.
2. Rewards Converter
This is another app that transfers the google play balance into your  Paypal, Google Pay, Paytm, or your UPI/VPA. All you need is to download the app from the link given below and signup and buy their token using your play credit which will be converter and provided you as real money.
Steps to transfer google play balance to bank Paypal:
Down the Rewards Converter app from the play store.
Create an account after downloading the app.
Enter the amount which wants to convert from play credits.
Provide your Paypal or any other account details.

Transfer google play balance to Paypal

confirm the order and make the purchase using your google play balance.
Wait for 7 days to confirm your order.
This app works on the same method as the first app, the only difference is that this app also provides PayPal as an option if you want to transfer google play balance to PayPal account. Other than this all the functions and methods are the same for both of the app.
Frequently Asked Questions
Are these apps which we are using to transfer google play balance trusted?
No, these are the third-party apps we no proper organization behind them, but as of now these are the only sources that people are using to withdraw their Play Credits or Google Opinion Rewards for google play.
How much are the transferring charges?
Google charges 30% on the total transaction amount and these apps usually cut 10% for their service. So you will be charged 40% as the total transferring charges and you will get only 60% of the total google play credits as cash in your bank or Paypal or any other account.
How long the transfer takes?
Google has a 48 hours refund policy so these apps usually wait until your refund period is over. It usually takes around 72 hours to 7 days for the transfer to complete.
Wrapping Up
There is no direct or official way to transfer your google play balance to your bank account or any other account but you can use such apps to transfer your credits easily to your account. Just remember one thing that you check the reviews section before trusting any app with your play credits.
The apps I mentioned in this post are personally tested by me and they both took around 7 days to provide me with my 60% play credits as real money into my Paypal account. But I have also seen various reviews below these apps that didn't receive the amount. I only mentioned these apps in my article as they worked for me but I won't guarantee the same for anyone.
So I will only suggest you try with a small amount before entrusting them with a big amount, or you can simply transfer your play credits in small parts.
If you have any doubts in the process do let me know in the comment section below.