Grammarly is one of the top spelling and grammar checking tools available in the market right now, but its free plan has very limited features, so not everyone can afford the Grammarly premium or business plan as it starts at $12 per month for a single individual making it around $144 a year. That's why many of us start looking for cheap or free Grammarly alternatives, but theirs a ton of tools available in the market claiming to be the best alternative for Grammarly.
Whether you are writing a thesis or a story for your next novel, grammar plays a crucial role in making it a masterpiece. Even if you are writing a blog post or small piece content, then grammar usage is equally important. So, in order to make your work flawless, a good grammar checker is an essential tool that you need to have with you.
But as I already mentioned earlier, there are a ton of spelling and grammar checking tools available in the market claiming themselves to be the best, which makes it a lot more difficult for us to decide which one we should use. So, for that matter, I have compiled a list of the top 5 Grammarly alternatives (obviously after trying them out by myself), in which you will find the best grammar checker tools available for free, premium, and even for educational purposes.
💡 TL;DR;
Long story short, there is no other Grammarly alternative that even came close to what Grammarly premium can do, but still, after researching & using several tools myself, I found out that the only tool worth calling the Grammarly alternative is ProWritingAid, and here's why:
ProWritingAid is a full-fledged grammar checker available in both free and premium plans, but the only catch is that the free plan is limited to a 500-word count, which is more than enough for a blogger or article writers, and if you are looking for something for school assignments then Premium Plan helps you to get rid of plagiarism as well.
Other than that, ProWritingAid also has a lifetime plan which is only available on their official site. The yearly subscription comes at $120, and the lifetime plan for ProWritingAid comes at $399.
Other than ProWritingAid, there are a ton of Grammarly alternatives available in the market that are either premium or have limited free plans, but as I said earlier, none of them even came close to what Grammarly can do, but if you're still interested in trying them out then you can read about them below.
So, let us get started with our list of the best Grammarly alternatives of 2023.
5 Best Grammarly Alternatives in 2023
Here's my top recommendation for the Grammarly alternatives, which you can try for writing flawless content without worrying about any punctuation, spelling, and grammar mistakes in your content. The first tool in our list is:
1. ProWritingAid – (The Best Grammarly Alternative)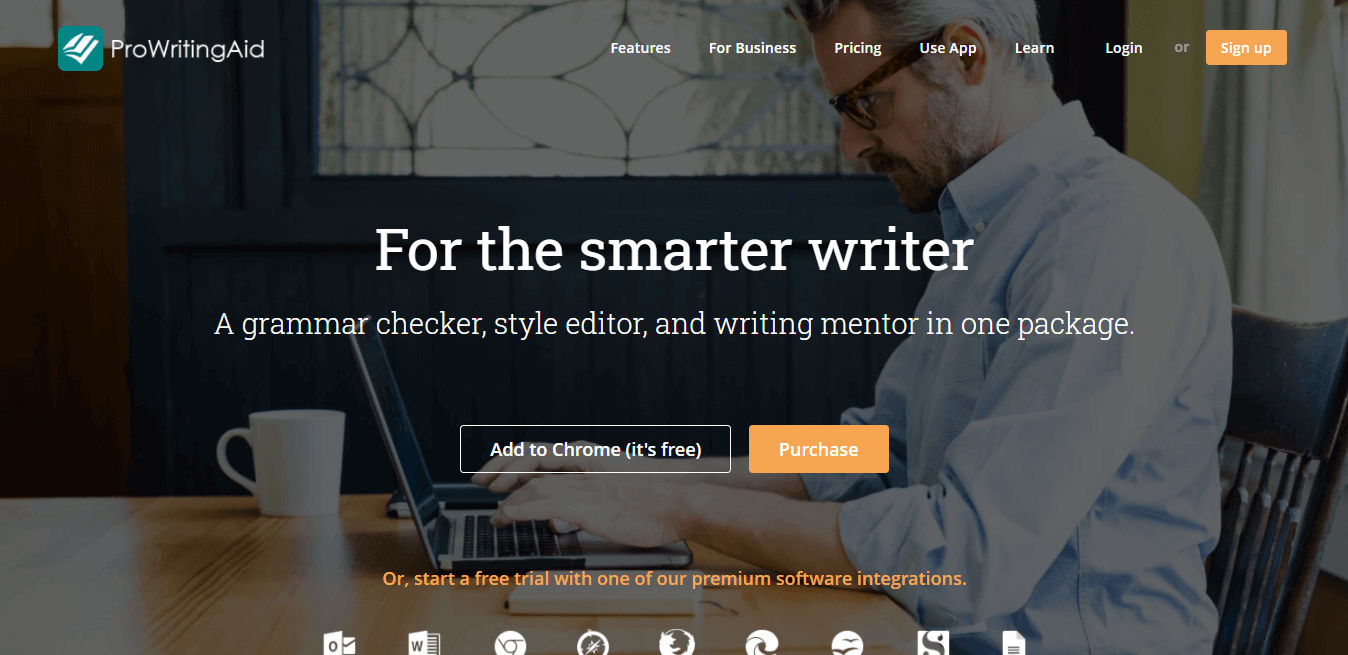 ProWritingAid is the first name that comes to my mind when thinking of the top Grammarly alternative, and the best thing about it is that even a newbie can afford it. It has both a free and premium plan for its subscription. The free plan is however only limited to 500 words of content and didn't come with the plagiarism checker, whereas the premium one has more features.
The premium plan has both the yearly subscription as well as the lifetime plan, so I would recommend you start with its free plan first. If you like it, you should switch to its lifetime premium version and write grammatically correct, attractive articles.
Also, if you need more time to fully understand ProWritingAid and to make up your mind, then you can also request 7 days of the free trial from ProWritingAid using this form.
Why ProWritingAid?
Variety of Writing Styles: Not everyone is a fan of the US writing style, and some may prefer the UK style. That's why ProWritingAid caters to all kinds of writers. Whether you prefer the US or UK style, ProWritingAid is the perfect fit for you. With the help of ProWritingAid, you can effortlessly create an attractive and grammatically correct article for your blog.
API access: Another benefit of ProWritingAid is that it offers API access so that developers can easily integrate it into their apps. So if you are a developer, then this feature makes this tool highly beneficial for you.
Attractive articles: ProWritingAid is all about producing attractive articles that can draw readers to your blog. If your tool can't help you create an engaging article, is it really worth using? With ProWritingAid, you can rest assured that it will help you create an outstanding blog post.
Plenty of Features: You'll find plenty of features in this tool that will make your writing an enjoyable experience & also helps you to improve your writing. All these features come at a low cost, making it an excellent deal for you.
Pocket-friendly: We understand that not everyone can afford expensive tools, especially beginners. That's why ProWritingAid is designed to be pocket-friendly. Even if you're a beginner, you can easily afford this tool without breaking the bank.
Easy Integrations: ProWritingAid can easily be integrated into Microsoft Word, Google Docs, PowerPoint, Evernote, LibreOffice Writer, Slack, Scrivener, etc.
ProWritingAid Pricing
Here's the plan and pricing for ProWritingAid. All the plans come with 14 days of the money-back guarantee, so you can buy it without any second thought in your mind.
Free Plan: With 500 Words Limit/Article
Monthly: $20
Yearly: $120
Lifetime: $399
You can also get ProWritingAid at a discounted price. If you are interested in the discount, look at our other article on the ProWritingAid discount code, you will get up to 50% off on ProWritingAid Easily.
2. Ginger – (Another Affordable Grammarly Alternative)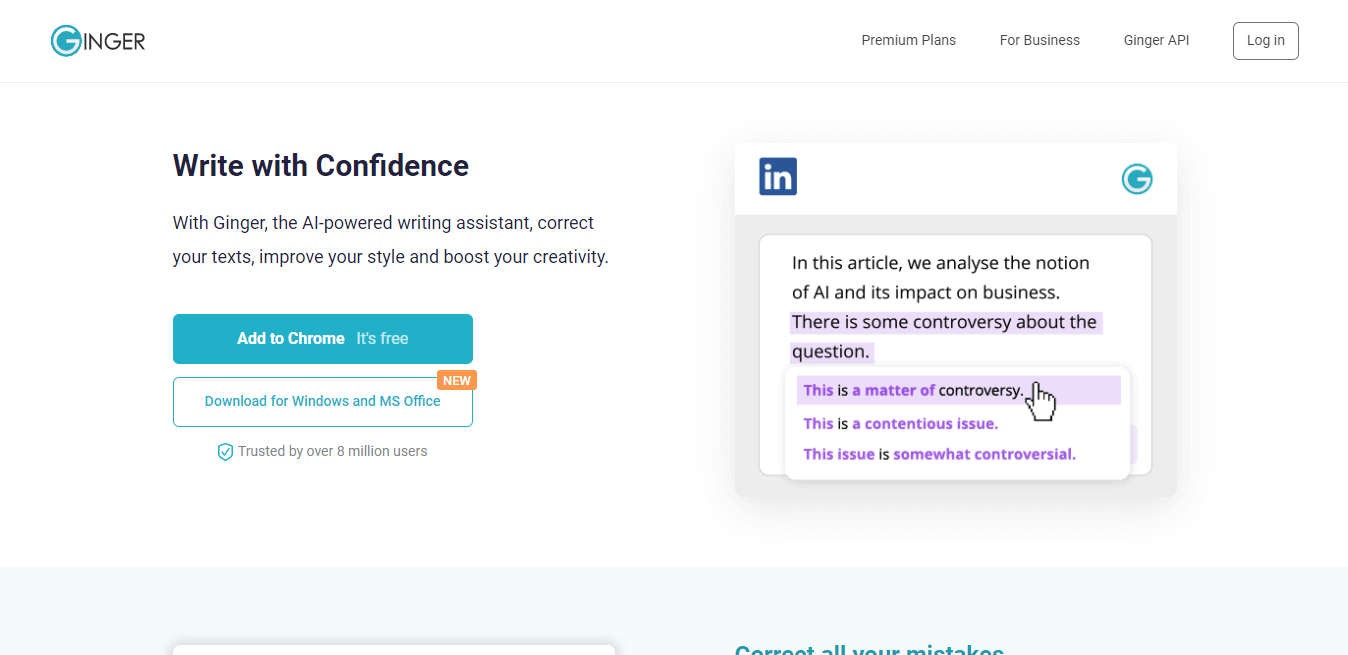 There are a lot of Grammarly alternatives you can find all around you, but once you try this tool, then you can clearly see the real difference between all of them, just like this tool. This tool is another alternative to Grammarly and is very similar to Grammarly, making it a worthy replacement. Just like Grammarly, this tool also has hype all over the blogging industry.
This tool provides you with plenty of features that you can use while writing grammatically correct articles, and this tool really takes care of this thing that what is the real meaning you want to write then it helps you to write further, which I think is the best thing about this tool. This tool can translate your document into 40+ languages, so whether you are in Spanish or French, I don't think there is something you have to worry about. This tool also provides you with a free plan, but I highly recommend trying the premium one.
Why Ginger?
Various languages: As we have already talked about, this tool provides you with 40+ languages, which means no matter if you are Spanish or German, you can easily use this tool and write your article in your preferred language.
Personal dictionary: you can also create a personal dictionary so that the program does not show errors for those words next time.
Text reader: It is another unique Ginger feature that is useful for learning pronunciation, but it is available only in the premium version, which is why I recommend you to explore the premium version.
Ginger Pricing
Ginger has both free and paid plans, you will get a limit on the free plan, but it's best to use the tool for small corrections. If you need their paid plan, you will get a 30% discount officially from Ginger, along with a 7-day of money-back guarantee.
Free Plan: With Limited Features
Monthly: $13.99
Quarterly: $33.57
Yearly: $84/year
2 Years Plan:  $120
3. WhiteSmoke – (Cheapest Grammarly Alternative)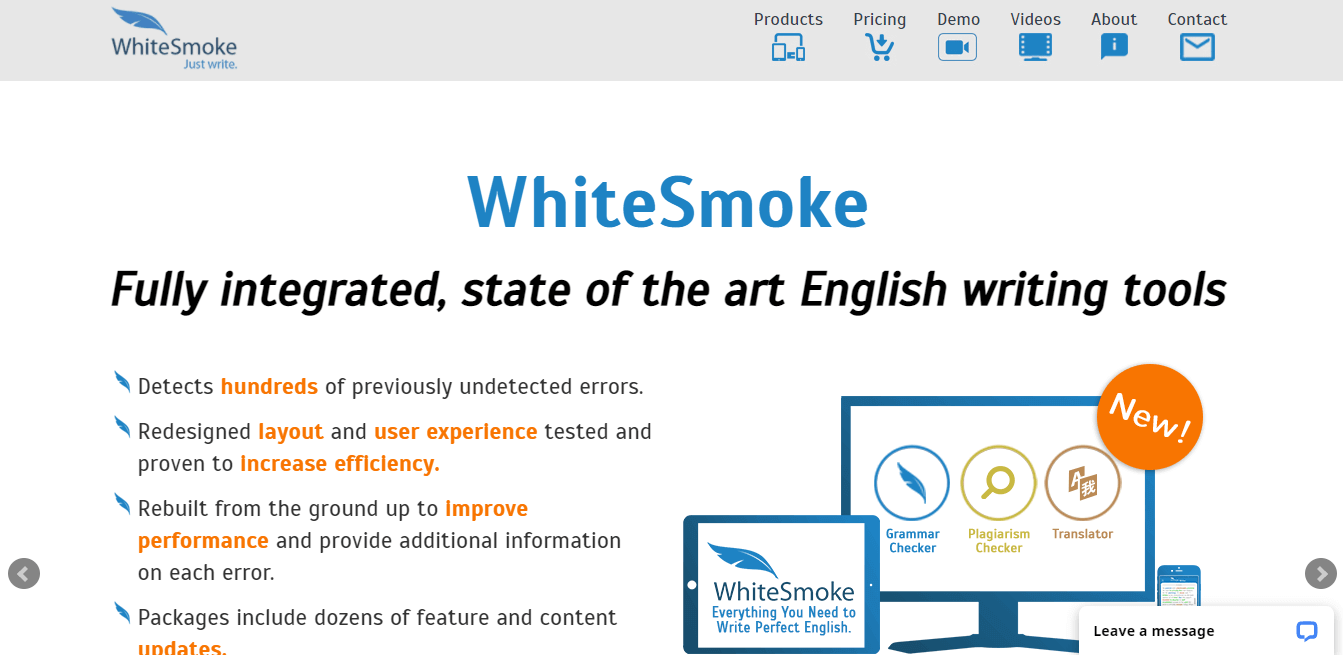 WhiteSmoke is one of my favorite tools I have ever used, and as for Grammarly alternatives then, this is the perfect tool for you guys. Whatever device you have, whether it is Mac or android, even a desktop, you can use this tool on any device. The software contains more than 100 writing templates, such as resumes, condolences, thank you letters, reports, cover letters, etc.
This tool is pretty amazing as it has a lot of features, but of course, I would recommend you explore the premium version. This tool has so many things to offer you, just like this tool offers you almost 55 languages. Isn't it amazing? Well, I know it is. I don't think that there is any reason you should wait to try this tool.
Why WhiteSmoke?
Explanation of words: The word-highlighting tool gives a brief explanation of the word's meaning and provides an example sentence. Which is pretty awesome and very informative.
Synonyms: It also has a list of synonyms, which makes it a great resource for increasing your vocabulary and substituting the word ubiquity. Which can prove very helpful to you. It also defines the selected word as well.
Plagiarized free articles: Well, this is the best reason to use this tool if you are a blogger, you can easily check whether your article is plagiarized or not. It can easily help you to judge the work you will outsource.
Tutorials: This tool is not just believed in correcting but also believes in learning, which is why the video tutorials on their website provide a variety of information about the proper use of prepositions, auxiliary verbs, nouns, and pronouns. From there you can learn too.
WhiteSmoke Pricing
WhiteSmoke comes with a yearly and 3-year plan, providing you with an amazing discount for their long-duration plan, so if you are planning on using WhiteSmoke for a longer duration, go with the 3 years plan.
Yearly Plan: $59.95
3 Years Plan – $124.95
4. Hemingway Editor – (Grammarly Alternative Software)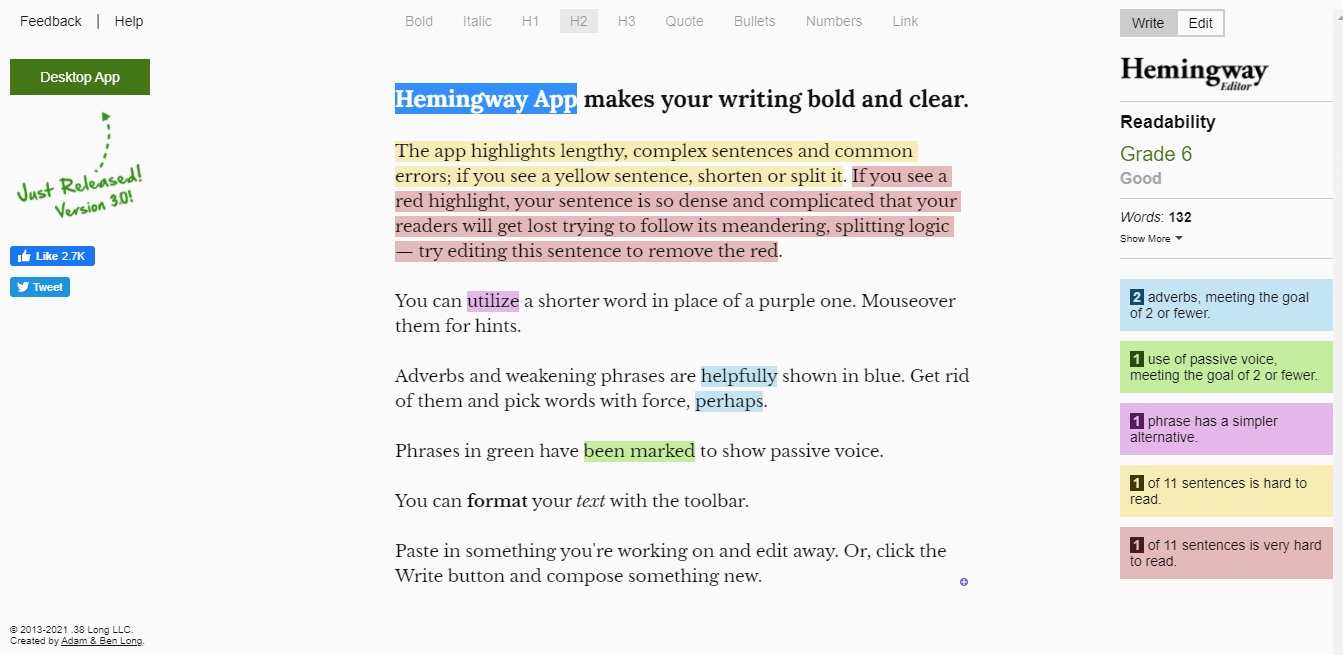 Here's another one of the best and free alternatives to Grammarly you can use. This tool's main focus is just increasing the readability of your post. If you paste text, selected phrases will be highlighted in different colors. The tool tells you which sentence is hard to read and provides suggestions on how to simplify the words.
The Hemingway Editor has multiple options like headings, bold, italic, bullets, and even inserting links. The Grammarly editor doesn't allow you to insert hyperlinks or paste text with hyperlinks.
Why Hemingway?
Attractive articles: This tool helps you to write attractive articles that will attract people to your blog, and in the end, it is a win-win situation for you.
User-friendly: Not every tool is user-friendly, but every tool should be user-friendly, and here this tool is very user-friendly even a newbie blogger can easily use it, and that is really great.
Pocket-friendly: This tool is really pocket-friendly, so with just a few bucks, you can easily get this amazing tool, but yeah, go for the premium version.
Hemingway Editor Pricing
The Hemingway app is completely free if you are using its editor on any web browser. If you are looking for their desktop app for Windows or Mac, then you need to pay one-time fees for that. That means you will get a lifetime license and that too at an affordable price.
Free for Online Editor.
One-time payment of $19.99 for Windows/Mac App.
5. PaperRater – (Spelling and Grammar Checker Tool)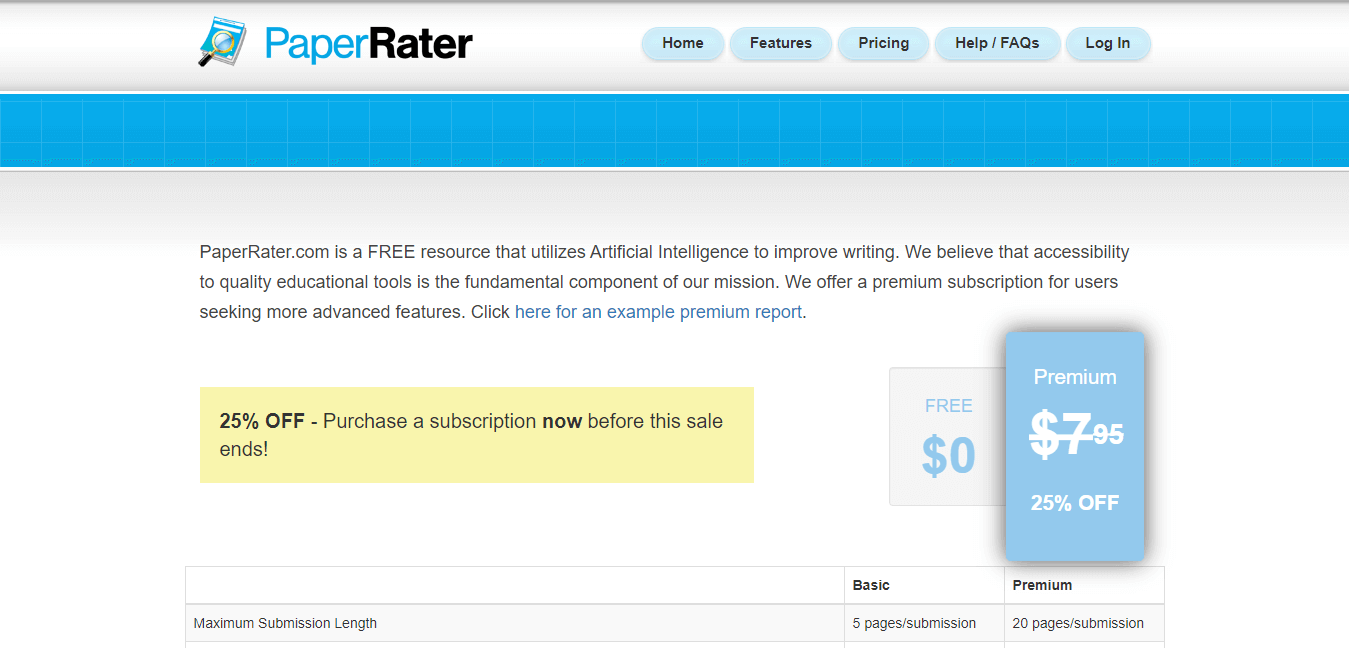 This tool name is so convincing, isn't it? Well, it works more convincingly, but for that, you have to use it, and don't forget the premium version only. This program utilizes Artificial language to enhance the way of writing and to provide a detailed scoring for the current content, which is just awesome.
Other than the punctuation, spelling, and grammar check feature, PaperRater uses various advanced technologies to check the content and even provides writing suggestions to help us with our way of writing the content.
Why PaperRater?
Plagiarism Check: They have paid and free plagiarism checking tools incorporated in their app to help you easily detect copied content.
Writing Suggestions: Suggest various sentences and words to help you whenever you get stuck while writing and also provide you with better suggestions to enhance your content.
Automated Scoring: Provides AI-powered scoring to help you find the best
PaperRater Pricing
You will get all the basic features of PaperRater in their free version. However, if you would like to use their service ad-free along with various other premium features, you will need to purchase their premium plan.
Free Plan:  (With Ads & Limit features)
Monthly Plan: $14.95
Yearly Plan – $95.40
Frequently Asked Questions (faqs)
Q1. Which one is the best tool among them?
Well, I can totally understand that you all be having some difficulties in choosing one of them, but trust me all of them are just amazing, but if you ask me, then I like ProWritingAid a little better, but apart from my choice what matters is which one you liked the most, choose wisely.
Q2. Are using them worth it?
I don't think that anyone would want to have any grammatical errors in their article, and yes, I know Grammarly is the best, but I assure you that all the Grammarly alternatives mentioned in this article are worth and you will end up liking these tools. So yes, each one of them totally worth it.
Q3. Is Grammarly Free for Students?
No, Grammarly is not free for students, but it offers 20% discounts for students.
Q4. What is Grammarly Business?
Grammarly Business is for teams, organizations, and enterprises, which is best for a group's writing needs. Grammarly Business includes all the features of the premium plan and several other features that come in handy when working in an organization.
Wrapping Up!
If you're here then I am sure then you read my whole article, and you really enjoyed it. I hope that you were able to find the top alternative to Grammarly and were satisfied with its features. It's true Grammarly is really one of a kind with its various advanced features such as punctuation checker, spelling errors, passive voice checker, etc making it a full-proof writing assistant. But it's also pretty expensive which is not something that every person can afford easily.
However, all the tools mentioned in this article are pretty solid to be called Grammarly alternatives and can help you to check grammar mistakes in your content without any hassle. All the paid and free tools in this article are mentioned after several hours of research and testing so no matter which tool you pick you won't regret it.
Do not forget to share this article with your family and friends and if you have any queries related to this post or want me to review any other tool just comment that down we will reach out to you. Also, do not forget to comment down the tool you liked the most and which one you picked.