If you are also suffering from the URL blacklist on Google and you are not able to access it. This usually happens when your site is compromised and infected with malware, virus, or spam links. This usually happens due to the weak security of your website or due to nulled plugins or themes in your wordpress.
If you are getting an error on your screen showing Infected with URL: Blacklist, then it means that your website has some kind of content that is harmful to other users.
So in this post, we will find out why your website is infected with the URL blacklist problem and how to solve it easily.
What is URL Blacklist?
Infected with URL: Blacklist is visible on your website when you are using Avast antivirus in your system, and your website is infected with any virus or malware. Avast web shield blocks the websites which have harmful content on them and instead of showing the website content, it shows Infected with URL: Blacklist warning on the screen.
If you are not using Avast, then you might see the warning: Deceptive Site Ahead, which is usually visible in the Chrome browser. These kinds of warnings tell us that the website you are trying to reach has harmful content on it such as Phishing Attacks, DDoS attacks, Email spam, spyware, malware, and viruses in Downloadable files.
Whether Avast or Chrome shows the warning of URL Blacklist on the screen, the reason is the same, and this is because both Avast and Google scan for each of the websites daily for their content, and if they find something fishy, they block the access of every of the user who tries to access the website.
How to Access Website with URL Blacklist Warning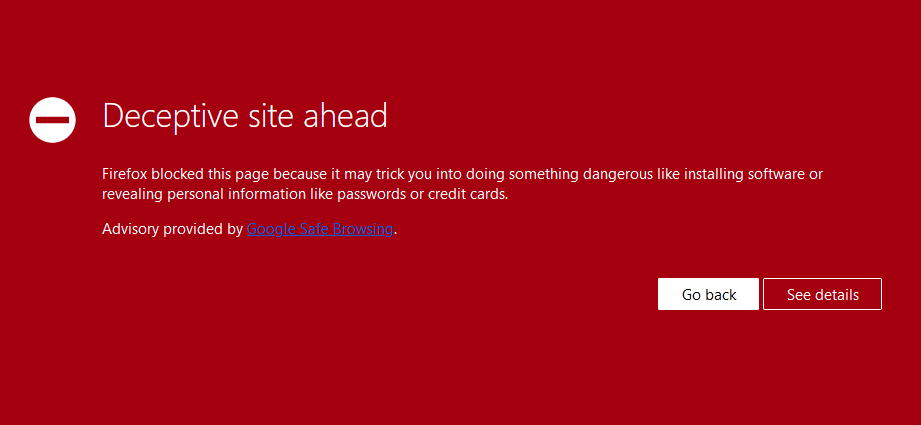 If you are a user who wants to access this website, then it's easy. If you are an Avast antivirus user, then you can simply disable the web shield for some time and then again enable it. But remember to enable it otherwise you will be exposed to various threats online if you want to completely unblock the website, then add the website to your antivirus exception list.
To add the URL to your exception list go to Menu >> Preferences. On the Preferences page click on the Core Shield tab and under "Web Shield" click on the "Add Exceptions" button and add the URL/domain you wanted to unblock permanently.
If you are not an Avast user and you are simply getting an error Deceptive Site Ahead, then for this, click on Details and click on Continue to the site button there and then you can access the website.
But Remember that you only follow the steps given above when you know what you are doing. Otherwise, you might risk your computer with malware or virus.
How Does a URL Gets Blacklisted
This usually happens when your website is hacked or compromised due to some third-party or nulled theme, plugin, or even due to some vulnerabilities in your website, and before you clean your website, it has been crawled by the Google bot.
If, on crawling google bot finds any harmful file, content, or malware on your website, then it blocks its access so that any of the users visiting the website doesn't get infected with it.
There are various other reasons also for getting your URL blacklisted on Google or Avast.
Phishing Attacks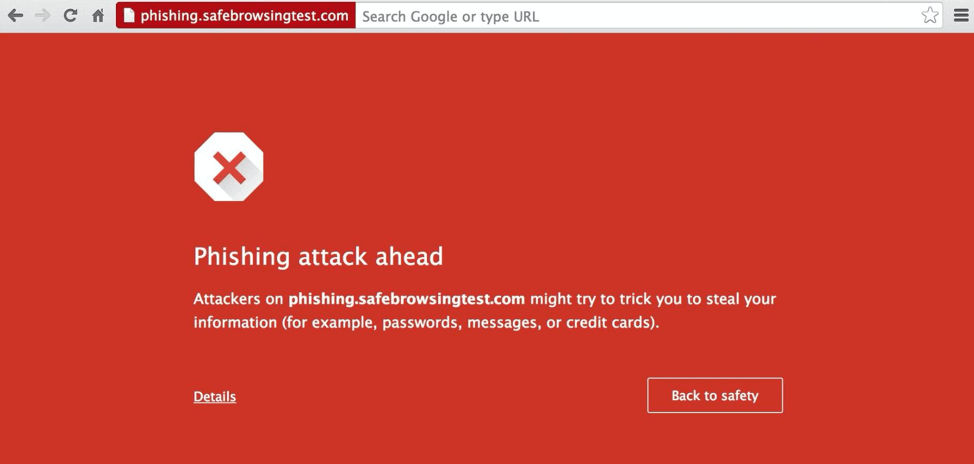 These are the links that try to steal user confidential data (passwords, card details, etc) by showing the user the exact replicate page of the service they are looking for.
SEO Spams
Seo Spams is one of the most common attacks the hijacks are doing, in this, they change your current pages titles and contents with th
Backdoor from Unsafe Plugins/Libraries
This happens when some cybercriminals find some vulnerabilities or loopholes to get access to your website through some plugin files or through the libraries installed on your website and then add some harmful files and content to your website.
Website Defacement
Website Defacement is the same as a backdoor, but instead of hiding the harmful content on your website, cybercriminals change the whole website with their content.
Trojan Horses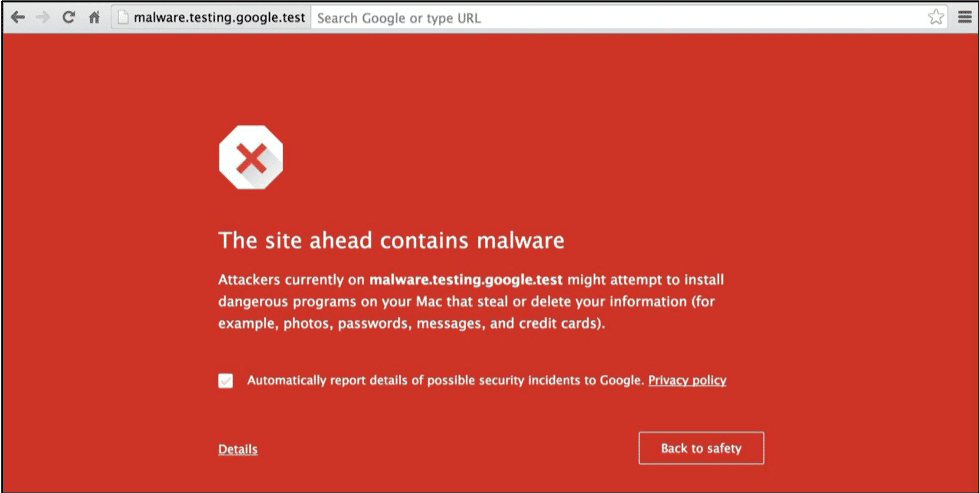 Trojan horses are the type of malware that automatically gets downloaded to the user's website, and once executed, it steals all the user information for their computer.
How to Check If URL Is Blacklisted
You can manually check the URL blacklist by visiting the site on your own. and if you see some kind of error, then its URL is blacklisted. Other than that, there are various tools by Google that help you to find out if your URL is blacklisted or not.
Safe Browsing by Google
This is a tool provided by Google itself that shows if your website has any issues or not. To check the URL blacklisted problem, first of all, visit Safe Browsing by Google by clicking on the link and then enter your URL in the given input box and press Enter.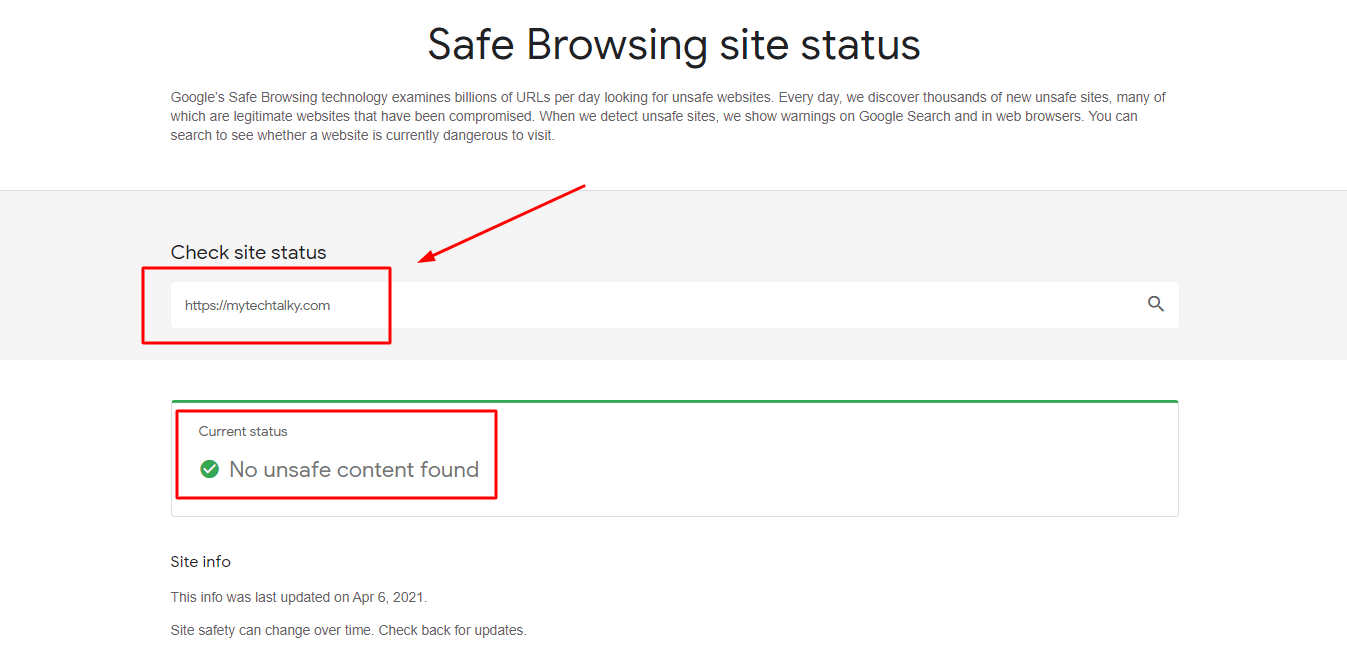 If your website has any harmful content on your website, then it will show all the URLs that have a problem in them otherwise it will show "No unsafe content found".
Google Search Console Security Actions
This is one of the best methods to find out if you have any problems with your website or not. If you have the Search Console for your website, then you can easily find out the problem on your website.
Just visit the Search Console of your website and then go to Security & Manual Actions > Security issues and if your website has any issue, then you will find it there.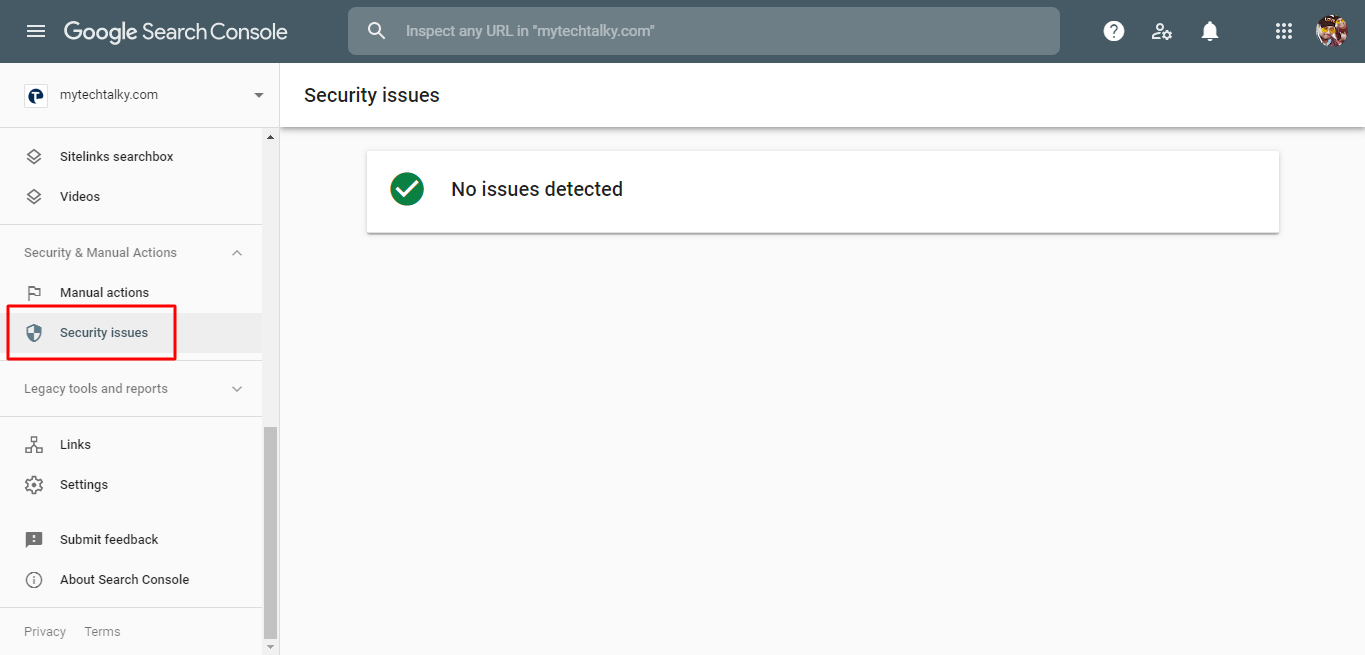 If you find any issues in your website, you need to sort them and then submit the request to Google from the Security issues tab, and your website will be recovered successfully from the URL blacklisted problem.
How to Protect the Site From Being Blacklisted
If you want to protect your website URLs from being blacklisted, then you need to follow these steps properly to make sure that this doesn't happen to you again.
Use Only Genuine Plugins/Themes
Always use plugins from the WordPress repository and never use any nulled or third-party plugins on your website. Usually, the nulled plugins and themes are the cause of malware on your websites.
Keep Auto Update Enabled
Always keep auto-update enabled in your wordpress so that all your plugins and themes are updated. The updated wordpress website is less prone to attacks than the one which isn't updated.
Use Reputation Web Hosting
Always use some repeated hosting for your website, and never go for any hosting just because it is cheaper. Usually hosting
Plugins to Protect From URL: Blacklist
Install some security plugins for your website to save you from any attack on your website. There are various plugins available in the market for this job. I am mentioning the best plugins which I personally used and tested on my website.
1. Wordfence
Wordfence is one of the best plugins I found, which can protect you from any attacks and also alert you if an attacker tries to access your website. There are various features that you can use with this plugin for securing your website completely.
Wordfence has various advanced mechanisms available for their premium users, which you can check, and you can buy their service if you like. Wordfence also detects various vulnerabilities and security issues in your website and solves them.
I personally use and suggest Wordfence as the must-have plugin if you are also using wordpress.
2. MalCare
Malcare is also one of the best plugins to handle security on your website. Malcare not only checks your website for the issue but also checks the issues with the hosting and makes sure that nothing can cause the issue in your website.
3. SiteLock
SiteLock is also one of the security plugins in the market which helps in scanning your website and making sure that there is no malware or virus on your website.
Sitelock scans for all the draft posts and has a real-time update for your website to ensure nothing can use problems with your website.
How URL Blacklist Affects Your Website
URL Blacklist removes your website from Google or else you will see a huge amount of traffic lost in your Google Analytics account. This is because Google blocks the access of any user who tries to visit the blacklisted page on your website due to which no one can visit your page.
Also, even after recovering your website from this, you might face a huge ranking drop in Google and your website will take a lot of time to get recover properly in Google. So it's always best to keep your website safe and sound.
Frequency Asked Question
What URL blacklist virus?
URL blacklist virus is the name virus that causes the issue, which blacklists the URLs of your website on search engines and also removes your website from the Google index. This happens when your website is affected by any malware or harmful content, which according to Google search engines is harmful to its users.
Is URL blacklist dangerous?
Yes, if your URLs are blacklisted then this means the malware or virus on your website is harmful and needs to be removed quickly. Your website will remain blacklisted on Google until you successfully remove all instances of the malware from your website and re-submit your website on Google.
Conclusion
I hope that you were able to solve the issue of the URL blacklist on your website. If you are having any issues with it or don't know how to recover your site from it properly, then you can contact us, and we will solve it for you.
If you have any other queries or suggestions, you can also comment below in the given comment box.