In the last few years, we've seen enormous growth in SEO, and most businesses that operate nowadays focus more on Internet marketing. The reason for this is simple – if you aren't online, you aren't reachable by your potential customers.
And after the start of the mobile era, more and more people began searching for content in their native languages, which has now become a big opportunity for businesses to increase their visibility and search for local customers by creating SEO-optimized content in their native languages.
Being said that, creating content in their native language is the most difficult part, and there are many things to keep in mind before writing content in their native language.
But what we've seen is people writing content in English and then translating it to Hindi or their native language. This is completely wrong, and we shouldn't recommend doing so. Now, the question now arises: how to write Hindi articles if we're not translating them?
This is what we're going to discuss in this article…
How to Write SEO-Friendly Hindi Content?
I know you're thinking that if we're not translating content in your native language, then how can you write in Hindi?
Well, there are two different ways to do so.
Using a Hindi Keyword, and
Using a Transliteration Tool
In this guide, we'll show you how to write Hindi content effectively and faster using these two methods.
1. Using a Hindi Keyword
It's not an easy task for anyone to type content in Hindi using a standard keyboard. For this, you need to use a special type of keyboard that supports Hindi characters. But the good news is that most Android and iOS devices come with a Hindi keyboard pre-installed.
If you're using an Android device, then go to Settings -> System -> Languages & input -> Manage keyboards and enable the Hindi keyboard.
For iOS devices, go to Settings -> General -> Keyboard -> Keyboards and add a new Hindi keyboard.
But again, the biggest problem with using a Hindi keyboard is that you need to learn the Devanagari script, which is used to write Hindi.
2. Using a Transliteration Tool
After the Hindi keyboard, the best way to write Hindi content is by using a transliteration tool. A transliteration tool converts Roman script to Hindi characters, which further increases your efficiency in writing Hindi content.
And for this, you can find several tools on Google for transliteration. However, I would recommend using Translationly or Google Input Tools for this purpose.
Here are some transliteration tools you can use for writing in Hindi;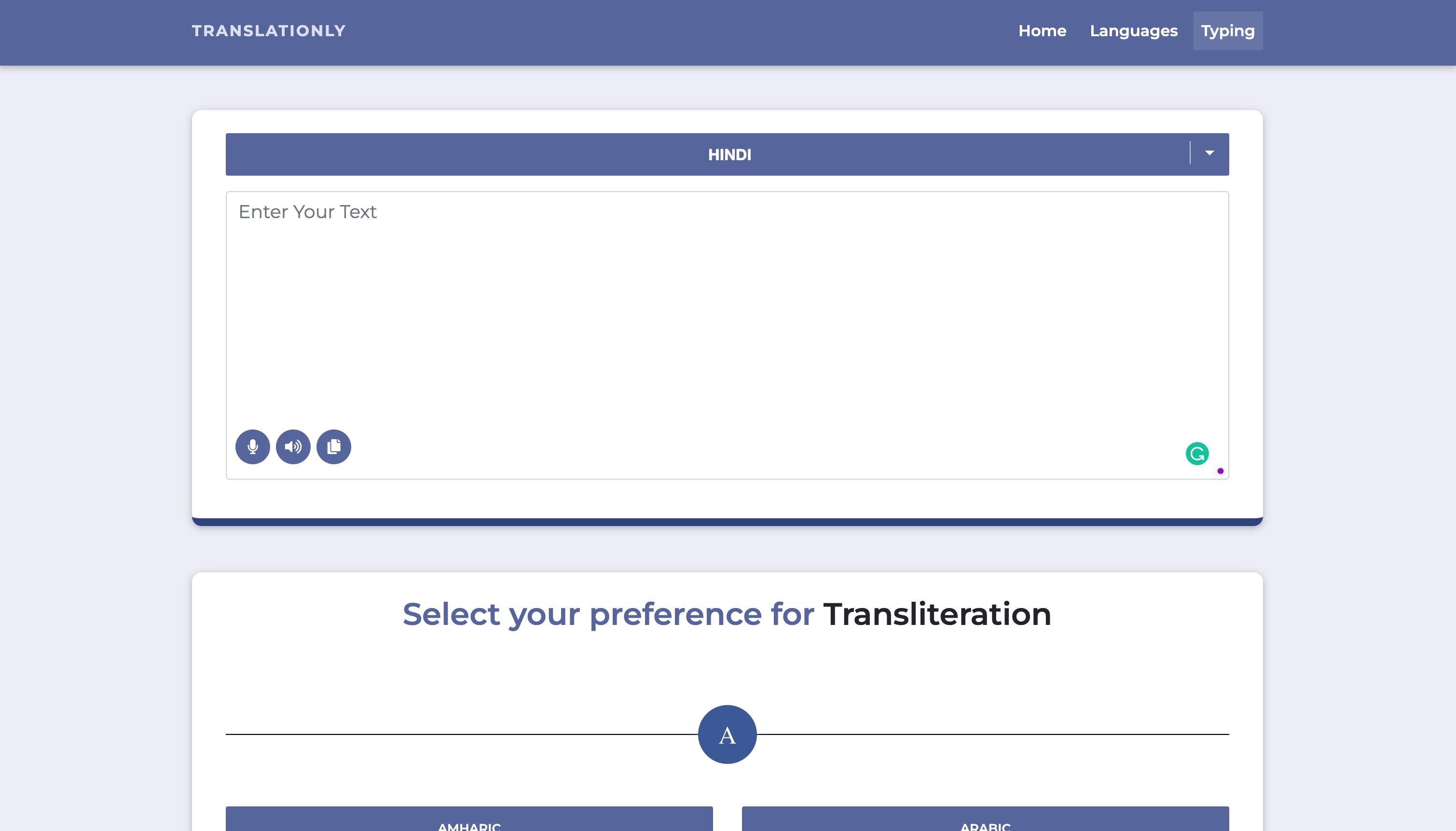 Translationly is one of the best AI-powered translation and transliteration tools available for bloggers and content writers. Not only in Hindi, but you can also use this tool to write in Marathi, Bengali, Tamil, Telugu, Urdu, and Gujarati.
This tool also features a real-time character counter that keeps track of the number of characters you've typed. Plus, there are no ads on this website, so you won't be distracted while writing content for your website.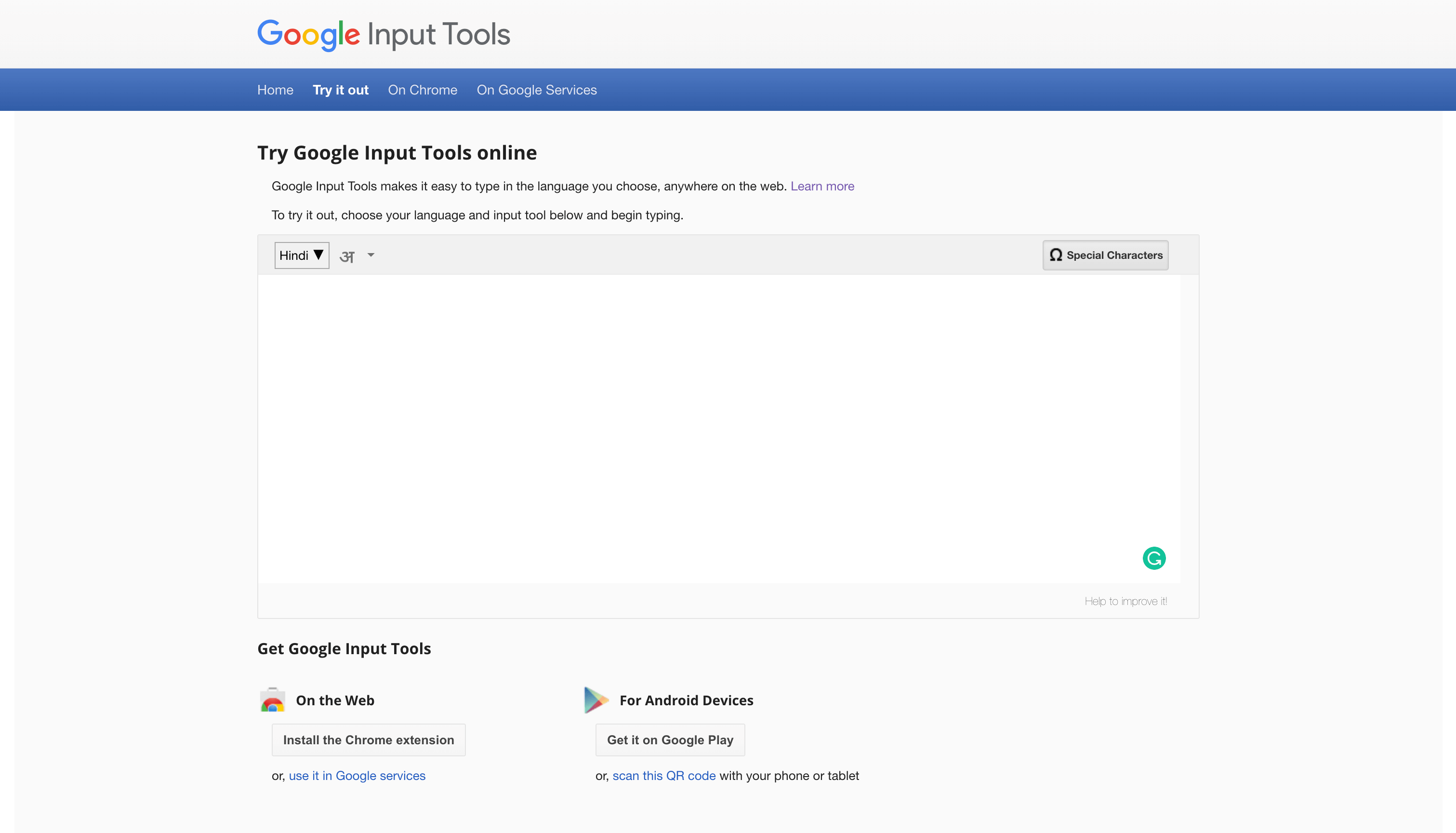 Google Input Tools is another most lucrative transliteration tool available on the Internet. This transliteration tool is developed by Google, and it supports more than 100 languages, including Arabic, English, Urdu, Marathi, and Chinese.
And not limited to this, they also offer a virtual keyboard for each language so that you can type in your native language without any hassle. And trust me, their virtual keyboard is very user-friendly and easy to use.
3. Quillpad
Developed on Google Input Tools, Quillpad is one of the oldest transliteration tools available on the Internet. However, this tool only supports 10 Indian languages, including Hindi, Bengali, Kannada, Tamil, and Telugu.
One of the best things about this tool is that it also features formatting options, such as bold, italics, underline, etc. So you can easily format your content while writing in Hindi using this tool.
Transliteration V/S Translated Content
Transliteration is the process of converting a text from one writing system to another. This can be done with or without taking into account the grammar and meaning of the original text. For example, the word "hello" can be transliterated into Hindi as "हेलो" or "नमस्ते".
Both transliteration and translation are useful methods for writing in Hindi. However, I would recommend using transliteration as it is easier, faster, and produces more relevant content.
Plus, you don't need to learn the Devanagari script if you're using a transliteration tool.
Who Can Write Using Transliteration?
Anyone who knows how to type in English can easily write using transliteration. However, if you want to produce more relevant and targeted content, then I would suggest learning the Devanagari script.
Here, we're sharing some pros and cons of using transliteration tools.
Mertis
1. No Grammar Mistakes
One of the best things about using transliteration is that there are no grammar mistakes. This is because you're directly converting the Roman script into Hindi characters.
There is no scope for making any grammar mistakes. Plus, you'll also get suggestions from the transliteration tool for other similar words.
2. Native Words
As you're not using any AI for translating the content, all the words used will be native. And this is something very important for ranking your content higher in Google search results.
And this is why we recommend using transliteration over translation for writing Hindi content.
3. 100% Meaningful Content
Last but not least, all the content written using transliteration will be 100% meaningful. As you're directly converting the Roman script into Hindi, there's no scope for any ambiguity.
This is something very important if you want to write impactful and persuasive content in Hindi.
Demerits
1. Only Works For Native Users
The only downside of using transliteration is that it only works for native users. If you're not a native Hindi speaker, then this method is not for you.
This is because you need to have a good command over the Roman script and Hindi grammar to produce relevant, targeted content.
2. Slower Process
Another disadvantage of transliteration is that it's a slower process. This is because you need to type out each word in the Roman script and then convert it into Hindi.
So if you're looking for a fast method, then this is not the right option for you.
3. Typing Words for Transliteration (Hinglish) are Sometimes Tricky
Sometimes it can be tricky to type out words in the Roman script because there are some words that sound the same but have different spellings.
For example, if you're writing the name "Sunny" in Hindi, you need to write "Sanny" instead of "Sunny". This is because there's no direct translation of the word "Sunny" in Hindi. This can be a bit tricky for non-native speakers. Once you get the hang of it, it won't be an issue anymore.
Wrapping Up!
SEO can be a complex and time-consuming task, but it's worth it if it means getting more traffic to your website or blog. And using transliterated content can be a great asset for any business with global aspirations—but only if it's done right.
By following the tips and tricks outlined above, you can ensure that your transliterated content is working for your SEO and providing a positive user experience for bilingual and multilingual users alike.
So what are you waiting for? Get started on translating your content today!