If you are a writer, whether it's for professional work or just for a hobby, you must have heard of Grammarly. It is a life savior for anyone who wants to improve their grammar and spelling. With its powerful algorithms, you can rely on it for all your writing needs.
But have you wondered whether the free version is enough or not? Fear not; we've got you covered. In this article, we will discuss everything about Grammarly's free and premium versions and help you decide the best one. So without any further delay, let's begin!
Grammarly Free Version: Overview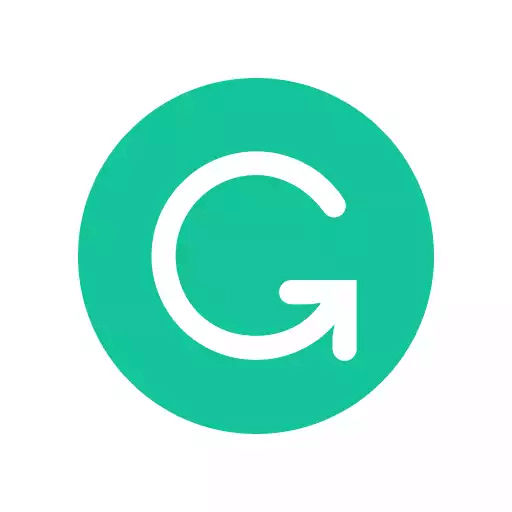 If you are a beginner and want to improve your writing skills without breaking the bank? Grammarly's free version is the one for you. It provides essential features to make your job easier and your writing smoother.
With reliable spelling and grammar checking, you can rely on it to catch errors in your work. Amongst all the features, the real gem is its conciseness checker. It ensures your writing is clear and precise, without irrelevant words or expressions.
Further, you get a quality score and a list of errors. Thus, you can fix the mistakes and improve your work's quality.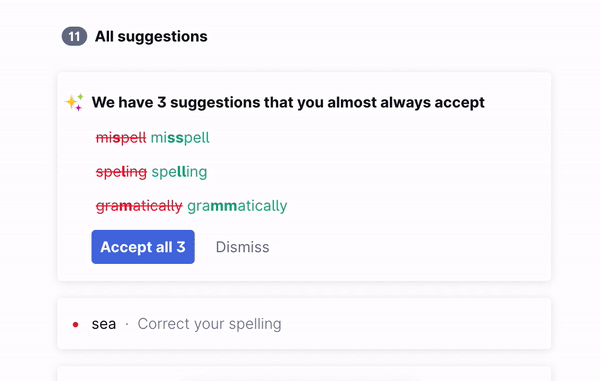 Besides that, Grammarly's free version provides multiple English versions. And the best thing? It won't cost you a dime!
Well, Grammarly's free version doesn't offer all the bells and whistles of the premium version, but it's still a reliable and excellent tool. So why wait? Download Grammarly today and start crafting your best work!
Grammarly Premium Version: Overview
With Grammarly premium, you get many advanced features and customizable options to take your writing to the next level. The premium version goes beyond just checking for spelling and grammatical errors.
It emphasizes your article's tone, delivery, and engagement level, making it errorless and appealing. Thus, Grammarly Premium is an indispensable tool for professional writers.
One of the standout features of Grammarly Premium is its ability to customize goals. Unlike the free version, it allows you to choose from different levels of formality, audience knowledge, and tone.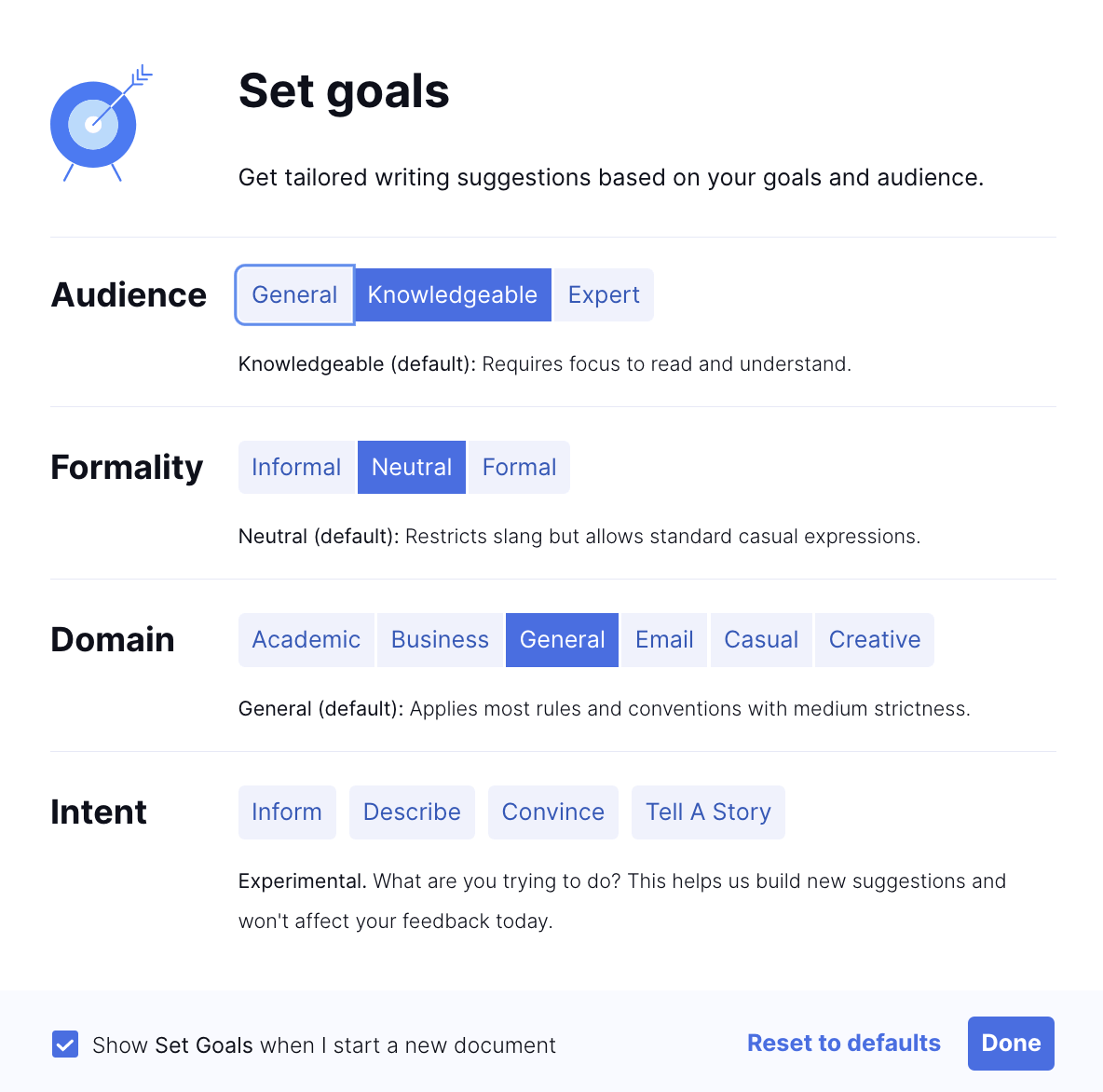 Moreover, you can choose from various academic, business, and casual domains to ensure the tone and suggestions are appropriate to your requirement.
Further, you can choose from four intention options to express your motive more clearly. It also provides suggestions for sentence rewrites, ensuring crisp and well-structured sentences. With the help of the synonym suggestions, you can improve your writing even further.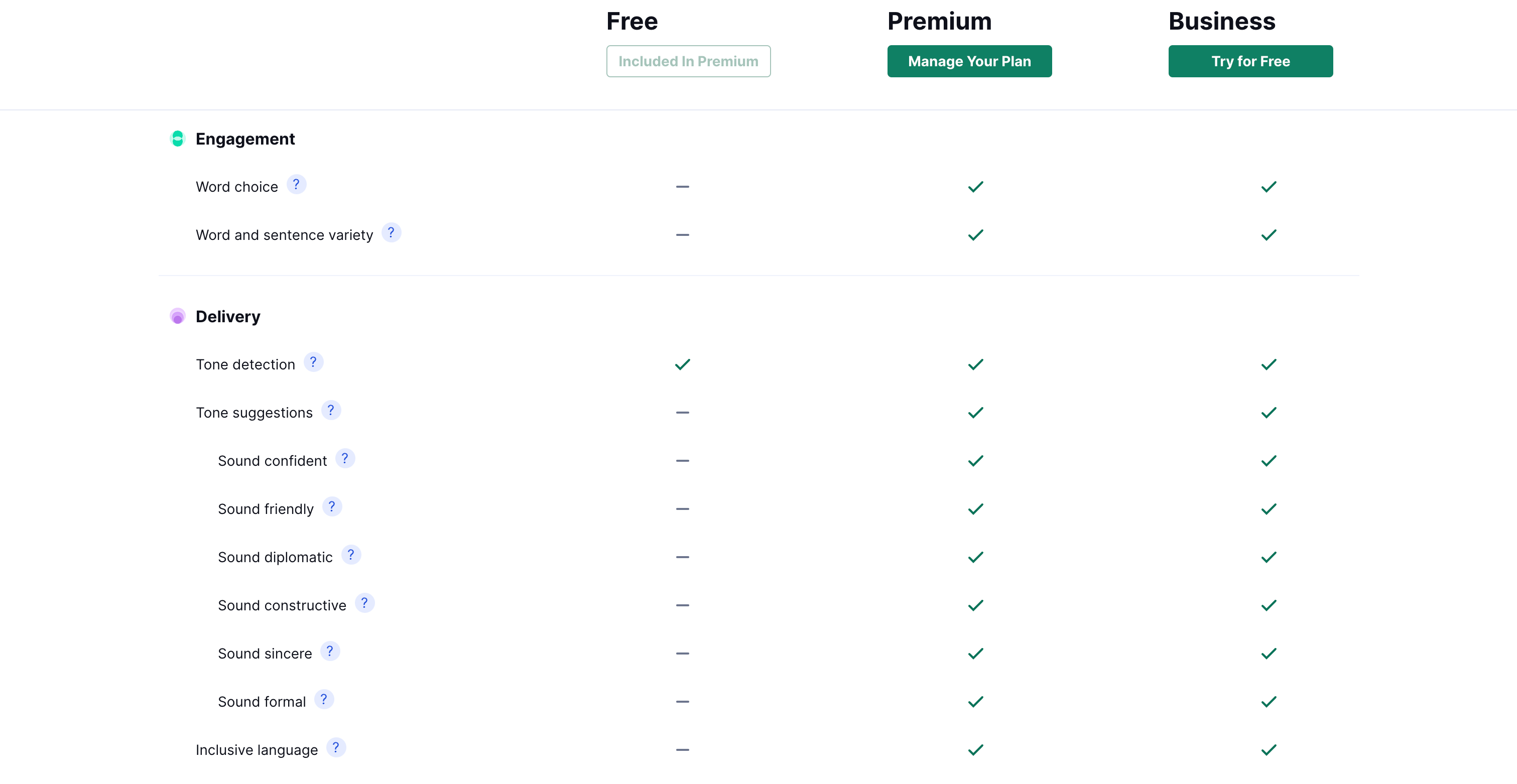 Apart from that, you get a built-in plagiarism checker. Therefore, you can ensure your work is original and unique to avoid copyright claims.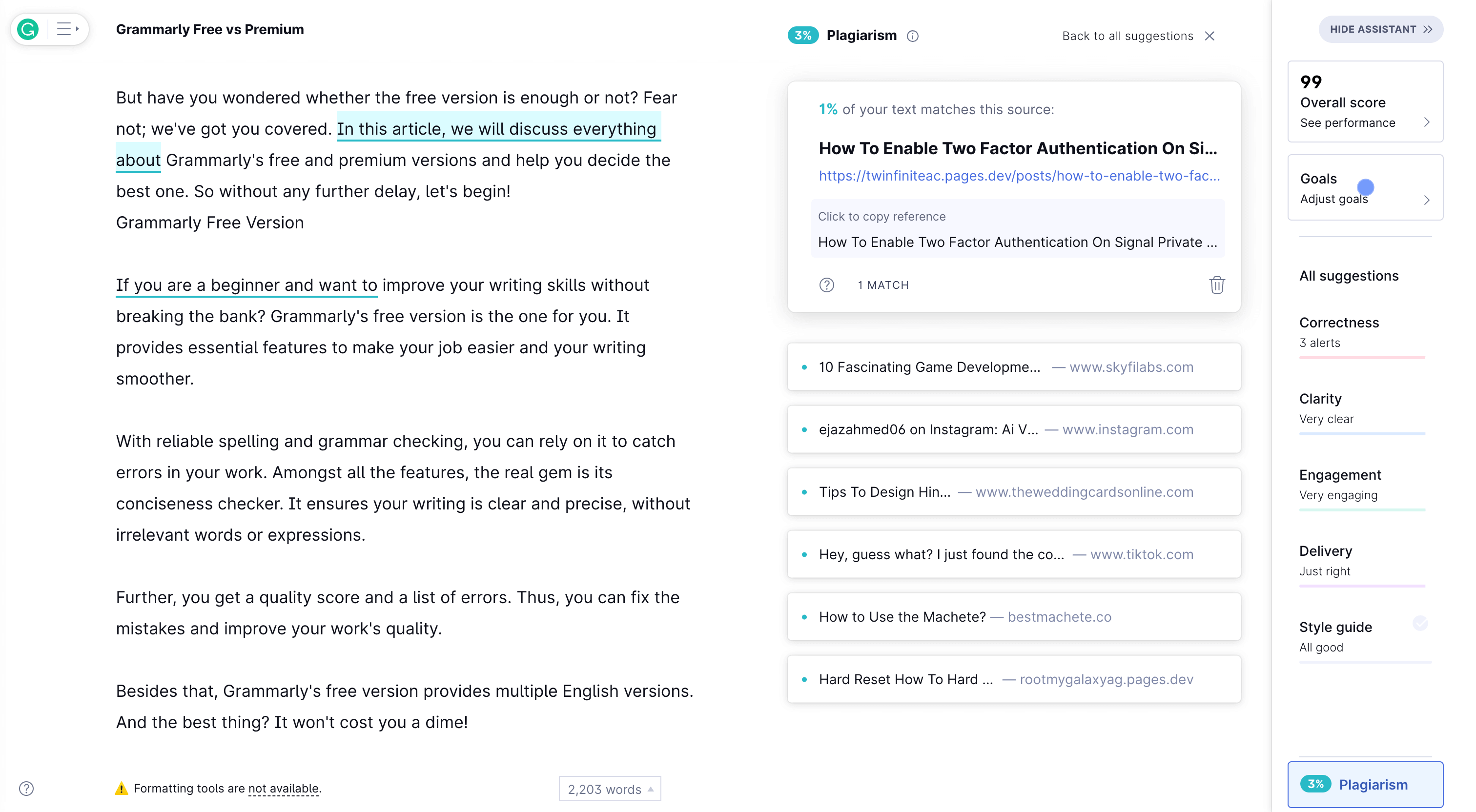 With the custom setup feature, you can tweak the suggestions and writing style per your requirement. You can add words to your vocabulary to ensure Grammarly doesn't highlight irrelevant errors.
These advanced features can take your writing skills to the next level, helping you catch and fix repetitive sentences and improper dialogue tags.
If you are a professional writer, you will love how effectively Grammarly Premium can improve your article's flow. The Vocabulary enhancement and sentence variety feature suggests attractive words to keep your writing fresh.
Apart from that, it also fixes sentence structure by reviewing tone, writing style, and delivery. In short, Grammarly Premium is a must-have tool for professional writers.
It comes packed with handy features that will assist you in writing more engaging, polished, and professional content.
Grammarly Free vs. Premium: Writing Suggestions
Are you tired of spending hours editing your article? Look no further than Grammarly! Unlike other grammar-checking tools, Grammarly uses robust AI-based writing suggestions that are reliable and consistent.
Grammarly Premium is a complete winner when comparing the writing suggestions between the free and premium versions. However, the free version has only essential grammar and punctuation correction tools, making it ideal for casual usage.
On the other hand, Premium boasts advanced grammar, spelling, and punctuation-checking capabilities. It checks your content with over four hundred advanced grammar rules to detect errors in your article.
Plus, it automatically corrects the highlighted spelling errors as you write. But that's not all – Grammarly premium ensures consistency, making your article polished and professional.
And if you seek fluency in your writing, Grammarly Premium ensures your word choices sound natural. Thus, Grammarly Premium is an all-in-one tool for content writers and email users.
Unlike conventional grammar-checking tools, Grammarly Premium improves your article's clarity according to your audience. It helps you write engaging articles, giving them a natural touch. You can ensure your article's quality and flow by focusing on conciseness and readability.
But what sets Grammarly Premium apart from its free version is making your article engaging and memorable. Well, it suggests lively sentence varieties and synonyms, which makes the writing unique and fresh.
You can even ensure the article's delivery and engagement to make it enjoyable. So why settle for anything less than the best? Upgrade to Grammarly Premium today and enhance your writing.
Grammarly Free vs. Premium: Plagiarism Checker
Another great feature that Grammarly premium offers is a built-in plagiarism checker. It will help you eliminate the accidental use of duplicate content on your blog. You won't have to install third-party software to check for plagiarism.
With this reliable plagiarism checker, you can be assured that your content is genuine and won't harm your SEO performance. Thus, it is an excellent reason to upgrade to Grammarly Premium.
It will catch unintentional slip-ups that could cost you big time. Considering the pricing of other plagiarism-checking software, Grammarly Premiums offers it an affordable price. So, say goodbye to duplicate content and say hello to top-notch writing. Besides, you must note that the free version doesn't enable checking for plagiarism.
Grammarly Free vs. Premium: Grammar Checking
If you want to take your writing to the next level, Grammarly Premium offers an advanced suite of grammar checking. You can tailor the settings per your requirement, from audience and tone to intent.
So, whether you are a student writing formal letters or a blogger, Grammarly Premium has got you covered. Moreover, you get advanced features like tone detection and content domain focus.
These features ensure that your content is grammatically correct and sounds how you want it to. On the other hand, the free version offers basic spelling and punctuation checking.
Grammarly Premium is designed for high-performance and accurate grammar checking. It will take your writing to new heights.
Grammarly Free vs. Premium: Pricing
Grammarly offers three plans to suit your needs: free, premium, and business. If you are not a business owner, there may be better plans for you than the business plan. However, with the Grammarly free plan, you can still enjoy the essential grammar-checking features.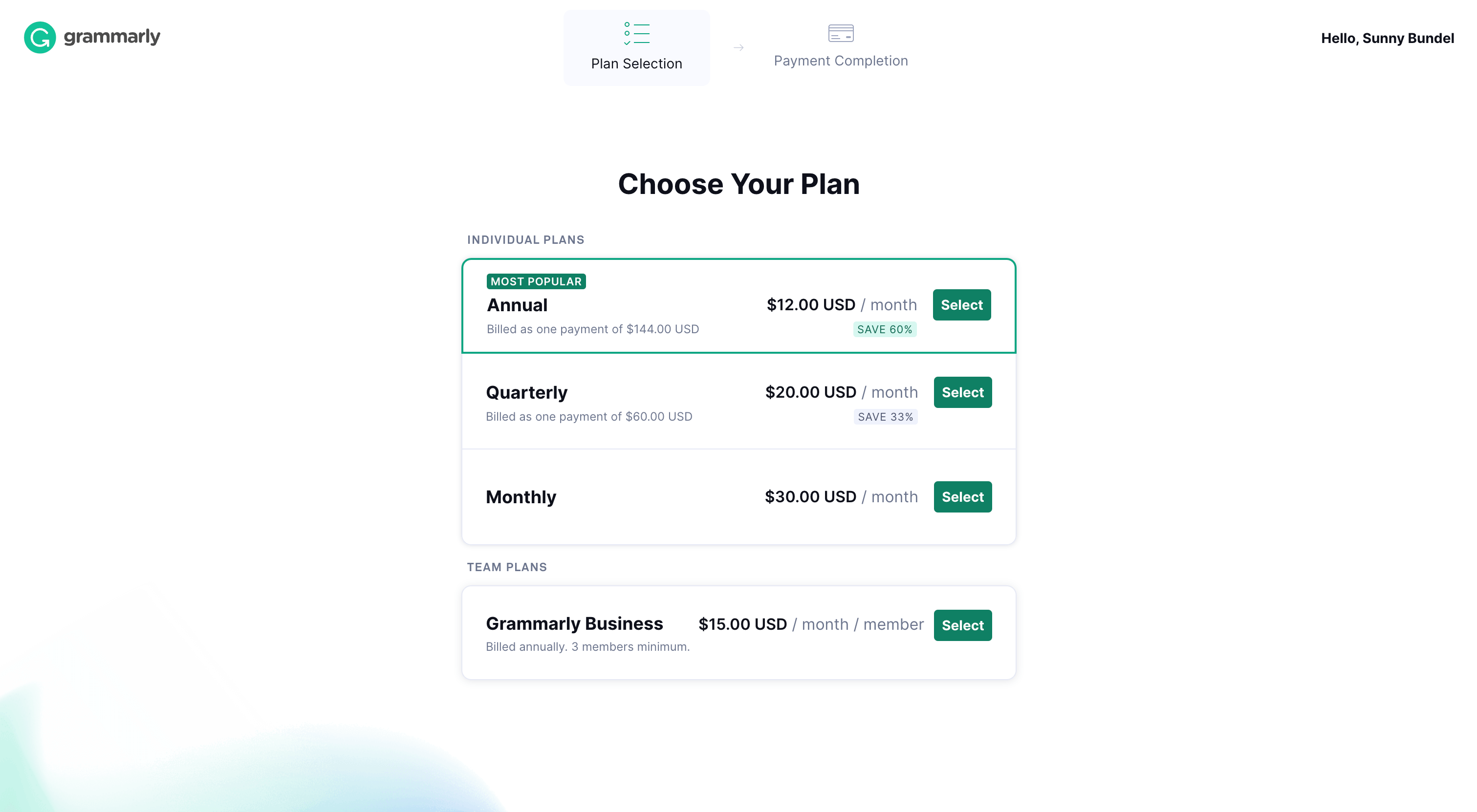 Plus, you get spelling and punctuation fixes, all completely free of charge. With flexible pricing options, including monthly, quarterly, and annual plans, you choose the best option.
The annual plan of Grammarly Premium is the most value-for-money plan, with a one-time payment of $144.
It will save you up to 60% more than other plans. If you opt for a quarterly subscription, it costs $20 every month. If you're a casual writer or student and if this price seems a bit harsh to you, then you can also try Grammarly alternatives available in the market, which works exactly like Grammarly and are available at a discounted price.
Moreover, you can cancel the subscription anytime you want. Need help deciding which plan to choose? Give the monthly plan a try, as many satisfied customers have done. After just a few uses, you can assess whether the annual plan is correct.
Grammarly Free vs. Premium: Advantages and Disadvantages
Are you curious about the differences between the Grammarly Free and Premium versions? Worry not! We've got the inside scoop on the advantages and disadvantages of each option.
So, whether you are a seasoned wordsmith or a beginner, we'll help you choose the perfect plan.
Grammarly Free Version: Advantages & Disadvantages
Advantages
Accurate grammatical corrections
Displays content quality score
Works on multiple platforms
Allows saving in the dashboard
Supports British, American, Australian, and Canadian English
Disadvantages
No style suggestions
Basic suggestions
No customizations
Grammarly Premium Version: Advantages & Disadvantages
Advantages
Advanced style suggestions
Better vocabulary suggestions
Plagiarism checker
Customizable writing goals
Disadvantages
Irrelevant suggestions
Only suitable for blogging and email writing
Grammarly Free, Premium, Or Business?
Are you looking to elevate your writing skills and make your content shine? Look no further than Grammarly! You can choose from three plans, including free, premium, and business plans, to suit your needs.
But choosing the right plan can be confusing and tedious. If you are seeking basic spelling and grammar checks, Grammarly Free would be a great option. But, if you are a student, content writer, or marketer who requires advanced features, Grammarly Premium would be the best.
And, if you are a business owner or work with a team, Grammarly Business is the way to go. This plan offers handy tools to take your content to the next level. So, what are you waiting for? Choose your plan today and start crafting high-quality content.
How To Use Grammarly Free Version?
Are you ready to take your writing to the next level with Grammarly's free version? Installing this powerful tool is a breeze. So, Follow these simple steps and start crafting errorless content!
Navigate to Grammarly's official website
Create an account with Google or Facebook ID
Download the extension for your browser
Open your document in the browser
Launch Grammarly and log in with your account
Grammarly will now review and suggest edits for your article in real time. Plus, you won't be interrupted by annoying ads.
Frequently Asked Questions
Q.1 Is Grammarly's Chrome Extension better than the app?
Grammarly's chrome extension works well with Google Docs and other online writing platforms. Plus, you get real-time suggestions for incorrect or irrelevant words. At the same time, the Grammarly app doesn't come with any exclusive features.
Q.2 Is the Grammarly Premium Worth it?
Well, it depends on your writing requirements. If you are a casual writer or a student working on an assignment, the Grammarly Free version will do the work for you. The free version provides all the tools to make your content grammatically correct.
However, if you are a professional and require advanced writing tools, such as a plagiarism checker, Grammarly Premium will be a good option.
Q.3 Can I try Grammarly Premium for free?
No, there is no free trial as of now. However, the free version is a fantastic way to test the waters and experience powerful features.
But if you're ready to take your writing to the next level, a 30-day subscription to Grammarly Premium is the way to go. And don't worry – you can cancel at any time.
Q.4 How does the plagiarism checker work?
Plagiarism checker is one of the best features of Grammarly Premium. It compares your article to a database of over 16 billion web pages. Thus, you can ensure that your article is genuine and unique.
Q.5 On how many devices can I use my Grammarly Premium account?
You can use your Grammarly Premium account on five devices simultaneously.
Q.6 Can Grammarly Premium improve my writing style?
To some extent, yes. Grammarly Premium suggests improvements for clarity, consciousness, tone, and more.
Thus, it will help you polish your writing and make your content readable. However, you can't wholly rely on Grammarly Premium to improve your writing style.
Q.7 Can I use Grammarly Premium in Microsoft Word?
Yes, you can use Grammarly Premium in Microsoft. Not only that, Grammarly works with all other writing platforms.
Q.8 How is Grammarly Premium different from Grammarly Business?
Grammarly Premium is an advanced version of Grammarly. It provides advanced writing suggestions and a wide range of writing styles.
With Grammarly Premium, you can access features like a customizable writing style, a plagiarism checker, and readability enhancement suggestions.
On the other hand, Grammarly Business is designed specifically for business owners and teams. It offers features that help in collaboration, centralized billing, priority customer care support, and admin controls.
You also get all the features of Grammarly Premium, making it an ideal choice for businesses that require reliable writing assistance tools.
Q.9 Does Grammarly Automatically correct errors?
Unfortunately, no. Grammarly flags the error with respective color underlines. Then, you can click on it to review and fix the error.
Q.10 Does Grammarly detects incorrect punctuation?
Yes, Grammarly detects and flags incorrect punctuation. However, ensure you have chosen the correct English version to avoid false suggestions.
Conclusion
Whether you are a beginner or a professional writer, Grammarly covers you. The free version is perfect for basic grammar and spelling checking.
The premium version offers advanced features like customization, vocabulary enhancement, and sentence variety, making it a must-have for professional writers.
We hope that with this article's help, you can now choose from Grammarly Premium or Free version. Both versions are reliable, safe, and ad-free.
With the user-friendly interface, you can be assured that Grammarly will be your go-to writing tool for all your writing needs. Grammarly Premium Version is ideal for advanced grammar checking.
Further, it's noteworthy that you can't check for plagiarism in the free version. Besides, even you can't set writing goals. Thus, we recommend Grammarly Premium.
If you have any queries, let us know in the comment section below.