WiFi is a wonderful gift for today's generation of teens and youngsters but when the WiFi connected but no internet this is the last thing which we ever want I guess, Isn't it? The Internet made the whole world is just like a village Like we can just communicate directly to the person who is far far away from us but when some bug comes between this, I can feel how annoying that would be.
So, here I am with this amazing post where we will be talking about how can you just kill that bug and keep connected with your WiFi again. We will talk about almost every solution so that you can fix this problem very easily. Let's get started,
WiFi Connected, No Internet – What Does It Mean and How Does It Look?
If you are seeing "No Internet" on your devices such as an iPhone android phone or a computer running windows it simply means that your device is successfully connected to your WiFi router but there is some other issue that prevents it from connecting to the internet over WiFi.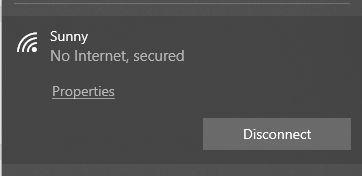 Not Always Easy to Fix…
Most of the people will just say there must be an error in the gateway address! That's why you have WiFi connected but no internet.
But trust me things are not that easy as it seems when you begin troubleshooting there are many chances that you will think that your phone, Windows PC, router, and even the Ethernet cables can be the culprit. Wondering how?
Trust me on this as well that this is not rocket science there is nothing which you cant do to fix this problem, All you need to do just keep calm and read this whole article and try these steps which we have mentioned in this post most probably you will able to restore your connection with the global web over WiFi on your own.
Solutions For the Error "WIFI Connected But No Internet" Message
We consider that whoever is reading this post that should connect with this post that is why we have elaborated each and every solution very thoroughly so that the person would face no difficulty on applying these steps on their own devices. Let's start.
1. Investigate the Issue
It is important to know at first which or what is the reason for that error so you should just start troubleshooting because it is quite hard to guess whether it is your router or your client device which is causing the error.
a) Try Connecting to Another WiFi Network
You should just understand first that whether you encounter the "No Internet" error when you connect to a specific network or any network. It will help in troubleshooting greatly.
So, If you finding an error on connecting to any network this simply means that this is your device (a phone, tablet, laptop, or PC) that has the issue. And vice versa: if you face this problem with a specific WiFi network, you may pay more attention to your router settings.
b) Connect from Another Device
Now just connect the same network with another device and find out the same error occurs or not. If you find the same error with another device as well then most probably the router or its configuration may be the reason why your WiFi has no Internet access.
Now you can collect all common information and get an idea that why you are actually facing this lack of internet connectivity over your WiFi. Let's hop to the next step.
2. Check if the Internet Cable
It is a very simple solution to make all you need to just check if the Internet cable is properly connected to the WAN port of your router.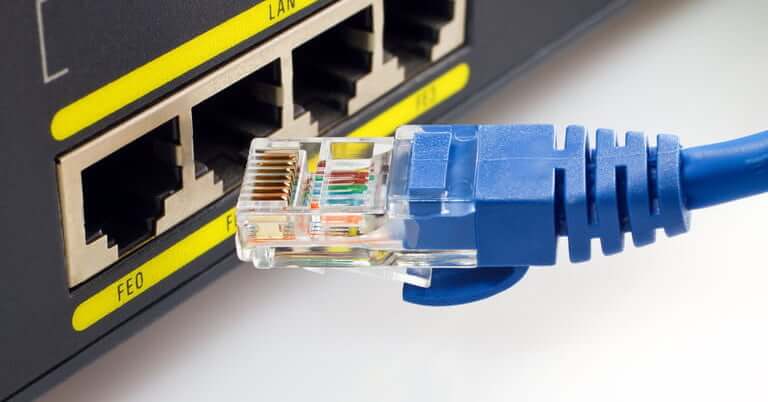 If the cable is not properly connected to the internet port you will have working wifi but no internet access if the Ethernet cable is broken or damaged just replace it but if it is not broken and well attached then just replace the patch cord.
By the way, the same issue emerges if you start the hotspot on your Android phone but forget to turn on mobile data:
As a result, your laptop or PC connects to a WiFi hotspot but there is no Internet.
3. Turn Off the Antivirus
Most people will wonder but sometimes it happens that the antivirus program turns out to be the reason for the notification Secured, No internet on Windows. Just try to disable that protection for a while and check if you have internet access or not. If you found your internet accessed you should just try out the following options.
disable its Firewall (or Network Shield) component.
Go to Network settings > change adapter options > right-click WiFi > uncheck the driver of your antivirus.
Disabling your antivirus is not a permanent solution to your problem but if the internet is connected after you turned off your antivirus program then you can at least think about how to get rid of that problem, for example, disable the firewall component.
We have never faced this issue on the android device but you can also try to uninstall the antivirus app on your mobile to ensure that is not the culprit.
4. Reset Your Router
Sometimes it happens that we thought that our problem is that non-fixable problem but in reality, that problem is nothing just a small glitch maybe that is happening to you, That's why I personally suggest you try the factory reset. Who knows this small effort would solve your big reason for stress.

You can easily reset your router using the reset button at the back of your router.
 5. Disable any Proxy Settings
I really don't think that many people use proxy nowadays, So, just in case you are behind any proxy, You might remove them, and just in case If you are not sure that you are behind any proxy, follow the given steps to check.
Let's talk about window users first
Open Run Prompt from the Start button or Simply by pressing Ctrl + R and enter inetcpl.cpl in the box and click on the OK button.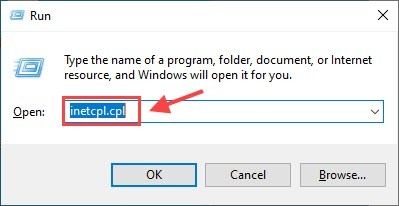 In the open tab, go to the Connections tab and then click on the Lan settings button below.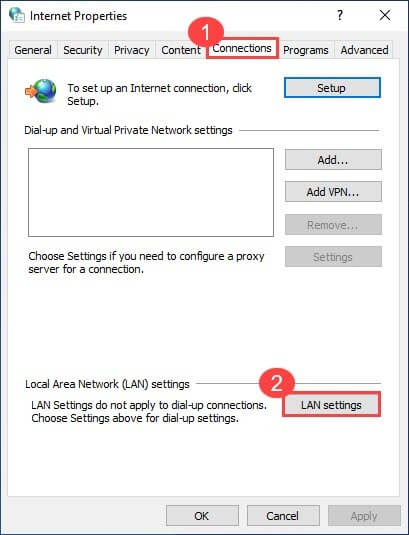 In the last tab, check if you have checked the Automatically detect settings button and unchecked the Use a proxy server for your LAN option and then save the settings by hitting the OK button.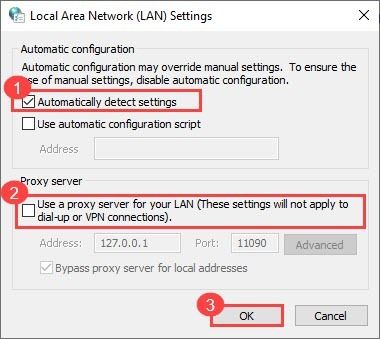 If you were behind any proxy previously, then this might have solved your issue.
Disable Proxy Settings For Mac OS: 
System Preferences -> Network -> Advanced -> Proxies – Make sure you have no Proxies enabled.
Click on the Apple logo at the top left corner and then select System Preferences, then click on the Network tab.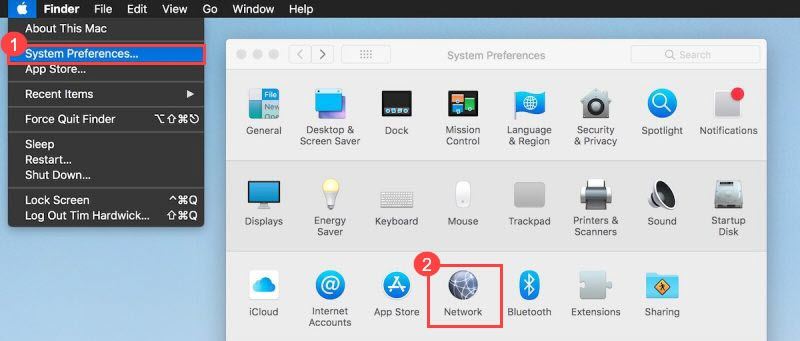 From the left section of the panel, select the "Network Service" you're currently using, and then click on the Advanced button.
Go to the Proxies tab and uncheck all the protocols selected under Select a protocol to configure, then hit the OK button once done. Make sure that you have no "Proxies" enabled under there. Now you should check your internet access may be the problem is solved yet.
Wrapping up
You have come this far I hope you found our article quite helpful. We have shared every possible step that can be done to solve the problem of WiFi connected but no internet.
You should try each step the problem of WiFi connected but no internet will surely solve, But even if found another way to solve this problem feel free to share that with us in the comment box section. We would love to share that in our article even if you have any queries or suggestions you can easily contact us or can comment down.
Do not forget to share this article with your family and friends and stay connected for upcoming posts.