Netflix party extension? Great idea!
Well, now the question arises on how to set up and use the Netflix party extension?
Now one question arising in my mind that do you all exactly know what Netflix party extension is? How does it work? Now you must be thinking that do you need to pay for having this amazing chrome extension.
We are here with this interesting article having all of your answers. We made sure that at the end of the article, you won't have any queries regarding this Netflix party chrome extension.
Let's get started…
What is Netflix Party?
Basically, Netflix party is a chrome extension, that you can install easily and then you can easily start watching your favorite movies and series with your friends online.
This extension has a special capability which is if one of your friends watching pause the movie, Everyone screen will be paused and resume at the same time.
Sound interesting?
There is one more chat feature in this chrome extension that is you can easily chat with your friends so that every member can share their thoughts about the series and the movie.
Most importantly you would glad to know that this is absolutely 100% free and you don't even need any credit card detail for using this all you have to do is just install the free extension, create a party link and keep your favorite show running.
Requirements for Netflix Party
Now for using the Netflix party chrome extension we need to know what are the requirements for the Netflix party extension
A Netflix account: You must have a Netflix account for using this party extension and you have to make sure that every one of you should have their own separate account for using the Netflix party chrome extension.
Google chrome browser: Obviously we keep saying that the Netflix chrome extension so it is very obvious that you need to have a google chrome browser for using this Netflix party chrome extension.
A fast reliable ISP connection.
 How to Download the Netflix Party Chrome Extension
Before start, I need to tell you that Netflix party extension is only for the chrome browser. Let's take a look at steps how can you download the Netflix party chrome extension.
Step 1. Go to the Netflix party website and click the install Netflix party button (Install Teleparty) at the top.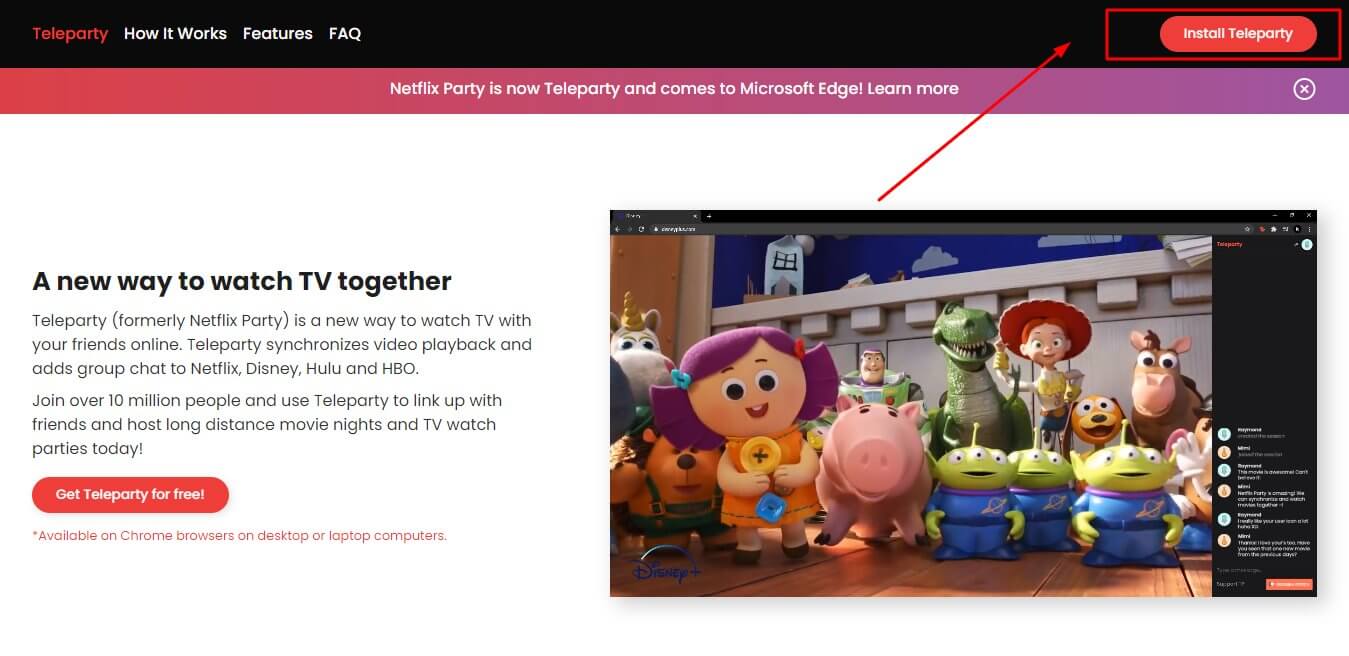 Step 2. At the Netflix Party chrome extension web store, click add to chrome and then add the extension command button.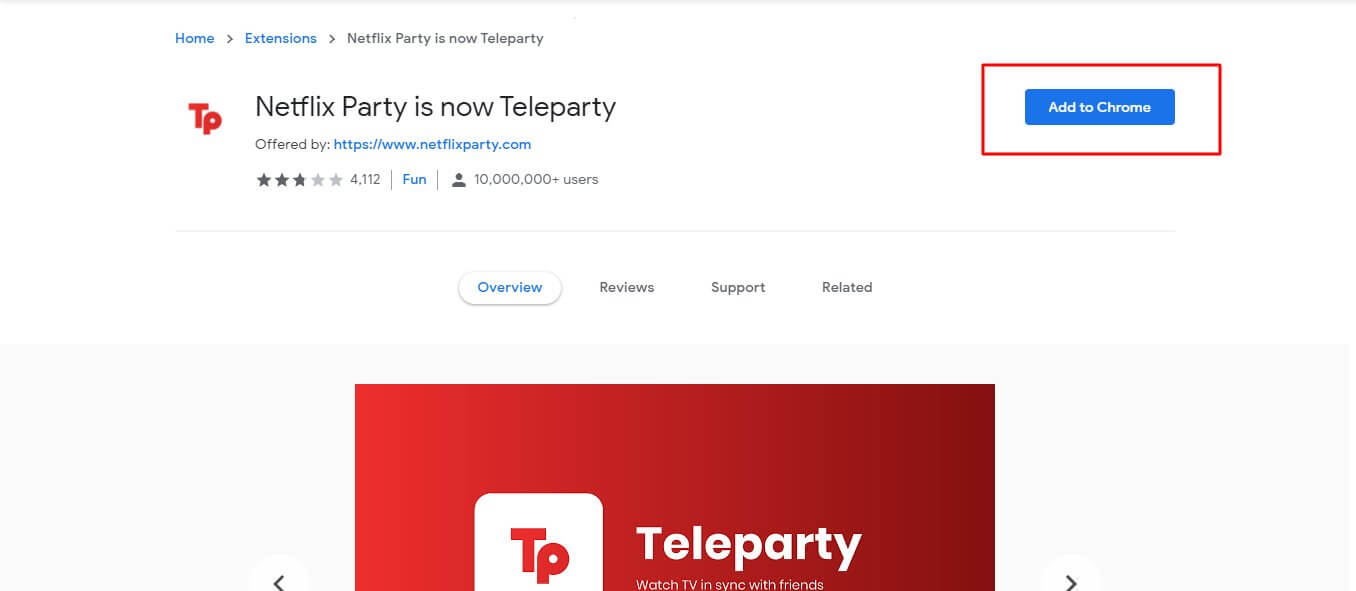 Step 3. Now the extension will be downloaded and added to google chrome.
step 4. Once it's done you would be able to see TP on the upper right-hand corner of your screen.
One last thing just click on the extension and you are good to go and enjoy the Netflix party extension and watch your favorite movie and series with your friends.
How to Host Netflix Party?
Now you learned very quickly that how can you download the Netflix party extension you surely thinking about host a Netflix party, But do you know how can you host Netflix party?
Well, Don't worry at all we will tell you how can you host a Netflix watch party and enjoy this with your friends.
Step 1. Simply go to the official website of Netflix, Select that movie or show which you want to watch, and start playing it just like you do normally.
Now, You will notice that Netflix party extension icon(NP) on your address bar will change itself from gray to red.
Step 2. Now click on that Netflix party extension icon and you will see a notification instructing you to create Netflix party.
Step 3. Now the next step is you have to choose between give yourself total control over the playback or leave it open for everyone.
Step 4. Once your selection is done just click on start the party then you will see another notification with a link.
Step 5. Click Copy URL and share that link with your friends with those you want to watch your show this link is considerable anytime during the party.
Netflix party has a live comment section where you and your friends can type their views and thoughts regarding that show and you can easily hide or show that chat room by clicking on the NP extension.
Congratulation! Now you know how to host a Netflix watch party too.
How to join a Netflix watch party?
What if you are invited to a Netflix watch party you should be ready Right!
Who knows one message popup on your mobile screen and you see your friend's message saying Hey! let's do a Netflix watch party join ASAP.
Let's see how can you join a Netflix watch party
Ask your friend who is the host of that Netflix watch party to share the link to Netflix's watch party with you.
Once you got the link, Well, Before the link you must have installed Netflix party chrome extension first.
Once you open that link you will automatically visit the Netflix watch party Now all you have to do is fun and enjoy that Netflix watch party.
Why use Netflix party extension?
I will totally agree with you if some of you will ask why should you even use the Netflix party extension and this is my duty to tell every benefit you can have by using this Netflix party extension So, here we will discuss why to use Netflix party extension.
Virtual theater experience
We all love outing with our friends what is better than this we can have that same fun in our houses and especially without spending a single penny.
Chat with others
When we watch any movie with our friends a lot of questions and thoughts come into our minds to share with our friends and Netflix party extension is giving us this feature we can easily comment in the chatroom and this can be really fun.
Makes isolation easier and fun
Isolation is something which no one likes i guess, Watching movies with your friends can be more fun instead of watching movies alone. It's made our isolation more easier and fun.
It's free
Yes, You don't have to pay anything for using this for having fun with your friends with the help of the Netflix party extension. If you have a Netflix account you can easily use this so I personally don't see any reason not to use this Netflix party extension.
Netflix Party not working?
Netflix Party is a new extension that people are using to watch TV together. But there's a problem: users are complaining about it on social media, and the fixes seem easy peasy.
Most users don't need to close their browser and re-open it to solve a problem.
To solve this issue, make sure that you close the app properly– If you want to fully close your browser, don't just minimize it or hide it. Quit all of the open tabs.
If you're still having problems with your computer, head to the top right part of your Google Chrome browser (the icon next to your user image), click on it, and go, and find 'Extension Settings.
From here, ensure all the Netflix Party settings are activated.
If the condition continues, Don't be the person who starts a show or movie without opening up the Netflix Party app first. and make sure everyone sees all of it at once
Frequently Asked Questions
Is Netflix party extension any good?
I would say it is absolutely 100% beneficial to use it with your friends. You are getting it without wasting your single penny, isn't it amazing! You should definitely give it a try for sure.
Can I get a Netflix party on iPhone and android?
Unfortunately, You must have a laptop or desktop to enjoy this amazing party extension. Till now this is neither available on iPhone nor android.
Is Netflix party safe?
As I have mentioned it that this is absolutely free this statement surely pops up a question in your mind that is the Netflix party safe, So my answer is Yes Netflix party is absolutely safe just make sure your friends won't share that link o anyone else at all.
Final Words
I use Netflix party extension for a while and trust me this is really amazing. This is something everyone who is a fan of Netflix series and movies should really give it a try.
We all know the fun automatically generate if we are with our friends so how can you watch a Netflix movie alone.
We LOVE to party and if we do a party with our friends watching F.R.I.E.N.D.S the drama and fun level we can imagine.
I would recommend you to must try this amazing Netflix party chrome extension you will surely like it.
I hope you liked our article and we consider that your all questions are answered but still if you have any query regarding Netflix party extension you are free to ask in the comment section and do tell us in the comment box that either you are gonna host a Netflix party or join a Netflix party.