So you somehow got locked out of your Facebook account and now you are worried about how to bypass the Facebook verification process? Recently facebook got strict and it starts verification of various accounts to check their genuineness to make Facebook a safer place for everyone.
So if you're also the one who got caught up in the Facebook verification process then you need not worry, In this guide, we will talk about all kinds of verification that Facebook implements on their users and how to easily recover your account from it.
Recently, some of my friends and family also got Facebook verification on their account, and being a tech geek they asked me to help them out and luckily everyone was able to regain their account after verification.
So let me now start with the explanation of all the processes which I performed to get back the Facebook account from the verification process and also share some of the other processes that many of the other users used to regain access to their account.
Let's get started.
What is Facebook Verification Process?
Facebook verification is a process in which facebook keeps your ID on hold and asks to verify your identity to continue using your ID. There are various types of verification that you can get on your Facebook ID such as photo verification, ID verification, number verification, selfie verification, etc.
And trust me if I say that if you got any of the verification other than photo verification then you just got lucky and you will easily get past the verification within 5 to 10minutes, but if you got photo verification on your ID then don't you worry! we have a trick for you as well to solve the issue quickly.
When I was helping my friends with this, I would out how easy it is to solve the issue still various people got stuck in the process just because of the lack of knowledge, so now let's go ahead and learn about all the methods which we are going to use to successfully bypass facebook ID verification.
Types of Facebook Verification
There are currently 4 types of verifications that I encountered myself. Other than that there is no other verification process for Facebook. So be assured we got you covered completely.
1. Facebook Photo Verification
This is one of the hardest verification which I have ever encountered on Facebook, in this method you need to verify the photos of your Facebook friends which they uploaded in their ID.
The reason why this is the hardest of all as many of us only use Facebook to share memes, food, and such kind of photos, which makes it a lot harder to verify. Facebook will show us the face photos of various accounts in which they shared memes making it impossible to figure out.
2. Facebook ID Verification
This is one of the most common verification which you can get on your Facebook ID. In this method you need to submit your Government Approved ID Card on Facebook to confirm your identity.
3. Facebook Number Verification
This is the easiest and quickest method to solve if you got number verification on your Facebook then you shouldn't even look for the solution just enter your number and paste the OTP you got and viola it's done.
4. Facebook Video Selfie Verification
This is the weirdest verification, in which Facebook asks you to make a video selfie your recent selfie to verify if that you or not. But this is also easily resolved and you can get back to your ID within 24 hours.
How to Bypass Facebook Photo Verification in 2023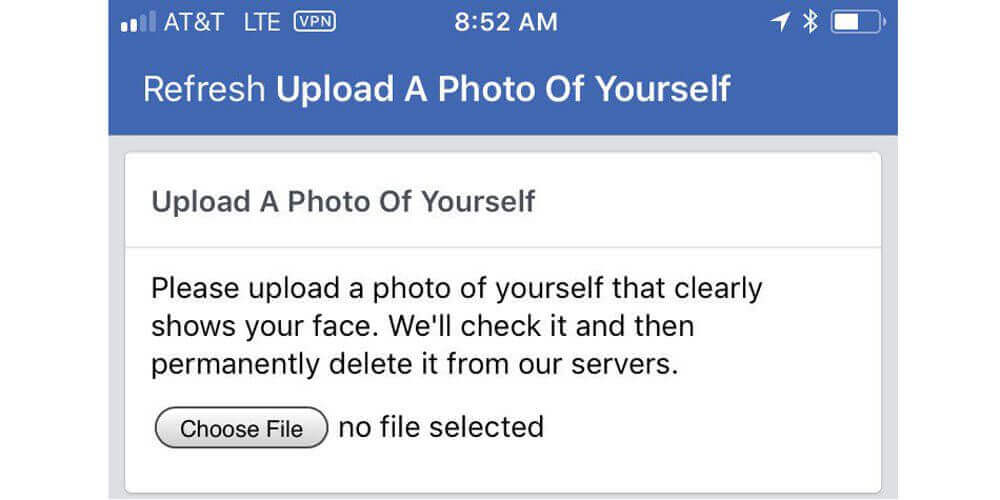 Facebook photo verification is one of the most time-consuming and most irritating verification of all on Facebook. In photo verification, all you need to do is match the correct image with the name of the user who uploaded it. It looks really easy until Facebook starts showing photos that have memes and other stuff other than the personal photo of that users.
Nowadays it's common that most of us have random friends on Facebook whose faces even we don't recognize and in such a case, it gets really difficult to match the correct photos with their users.
Methods to solve Facebook Photo Verification in 2023
1. Try Manually to Match Photos
Now if you can you need to try matching the photos normally. Facebook also gives 3-4 skip options along with it you can try it daily. So if you think you can do it then you need to manually try until you get succeed.
2. Bypass Facebook Verification Using VPN
If you are not able to verify your Facebook account manually then you might need to use a VPN service for the same. In this step, you need to use NordVPN Service to skip or bypass the Facebook verification process in just 1 minute.
Steps to Bypass Facebook Verification using NordVPN
Firstly download the NordVPN on your Mobile or PC.
Now create an account in the application you just download.
Now you need to activate a plan which will cost you $11.95 for a month.
After you successfully make a purchase of your VPN, now start your VPN and choose your country as Japan and select any server to get connected.
Now open your Facebook in any browser and login into your account.
Now it will show you that your account is locked, click on Next.
On the next page, it will ask you for your Date of Birth and your name or sometimes also ask you for your mobile number.

Facebook Number Verification

Just enter the details and click on Submit and your account will get activated if all the details you entered are correct.
If you are using NordVPN then you won't get any photo verification on your account and your account will simply get unlocked with just simple questions.
Also if you don't know some of your details then you can also ask any of your friends to look at it on your profile and told you the details and you can use it to get back your account access.
Other than this you can also use the SurfShark VPN trial if you don't want to pay for NordVPN. Many of the users complained that they were getting photo verification using NordVPN, but as it's a trial plan then it wouldn't harm to try once.
How to Bypass Facebook ID Verification in 2023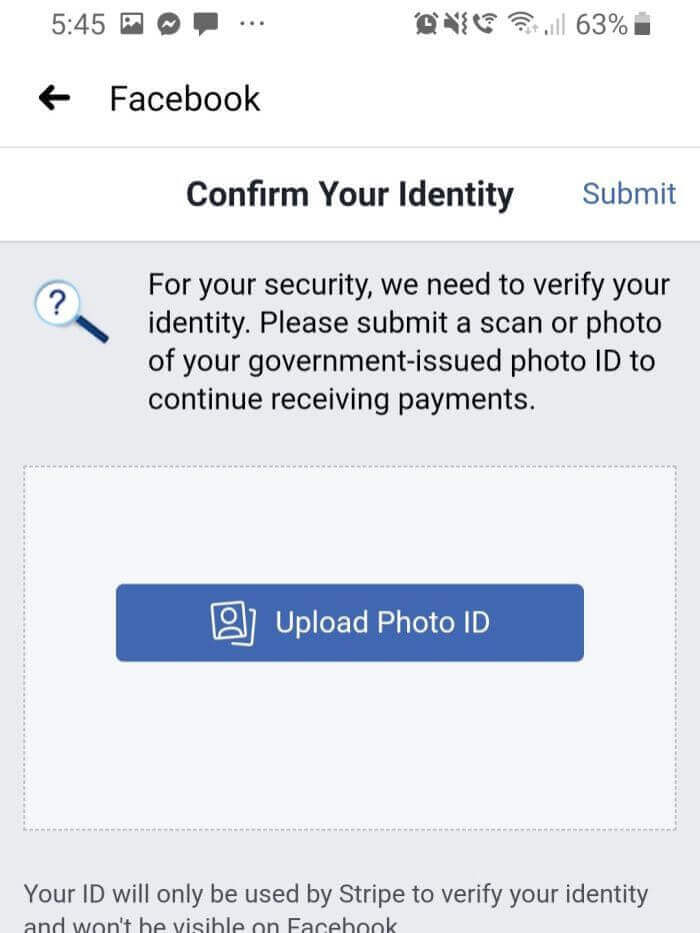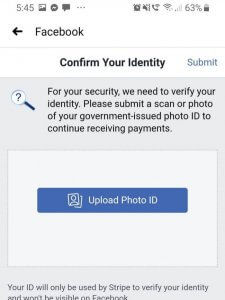 Facebook ID Verification is basically the easiest verification. All you need is to upload any of your official government id card and wait for them to get approved. This process will take around 24 hours and you will get an email about your Facebook verification.
You can also follow this form to upload your ID card directly. You can upload a maximum of 3 ids to increase your chances of successful verification.
If all your details are correct then you will surely get your ID to unlock within 24 hours but for some reason, it doesn't get verified then you all try the alternative method as shown in the above process. All you need to do is install the NordVPN and then try to do the verification and this time instead of an ID card, it will ask you for the mobile number and your Date of Birth.
Just enter your details and you will get access to your Facebook account.
Just remember if you have any wrong information in your Facebook account, remember to change it back to real info otherwise, you will be at risk of getting it banned again.
How to Bypass Facebook Number Verification in 2023
To bypass the Facebook number verification, all you need to do is enter your mobile number which you have already entered into your account and then wait for an OTP. As soon as you enter your OTP you will get back access to your account.
If your Facebook account doesn't have any mobile number associated then it will ask you to enter a new number which you can enter and provide with the OTP to get back to your account.
Previously various people are using disposable mobile numbers and temporary mobile numbers provided by various applications such as TextPlus but I will suggest you not use any of these apps as it will expose you to the risk of getting hacked in the future.
So the best way is to use your own mobile number and avoid using any third-party application which provides you with any similar services.
How to Bypass Facebook Selfie Verification in 2023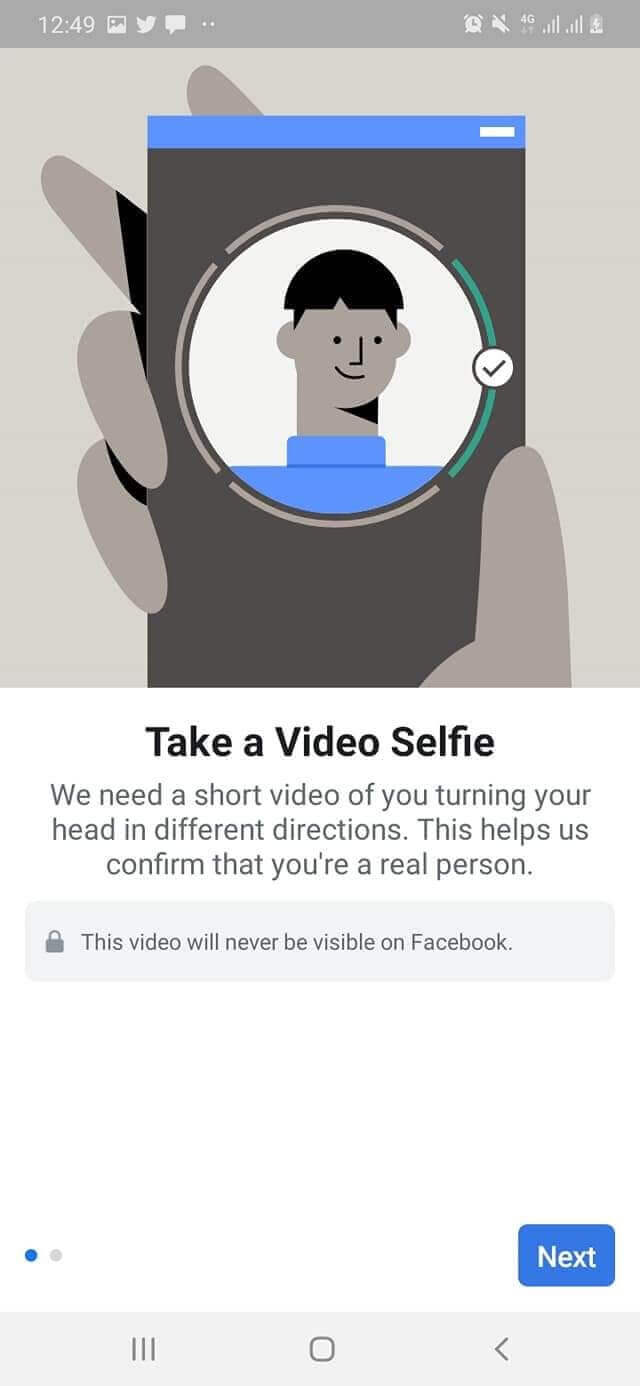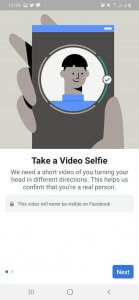 This is one of the newer verification processes which is started by Facebook in 2022. In this process, you need to upload your moving selfie or you can say video selfie into the Facebook verification and they will check and verify your account within 24 hours.
One bonus tip for this process is that if possible, provide the selfie which you already uploaded to your Facebook account before. It will speed up the process, this is because Facebook uses AI technologies to check for such verifications. So it will quickly activate your account if you provide it with the same selfie.
How to Get Back Disabled Facebook Account
So, if you got your Facebook account disabled somehow, then this section of the article is exclusively for you buddy. There are various of the reason which can get your account disabled which includes
Providing some fake information during Facebook verification.
Commenting something inappropriate on some famous influencer.
Sharing something inappropriate on your timeline.
Sharing inappropriate things in your personal chat.
So if you did anything which I mentioned above then you made yourself a target to get your ID disabled. But now you are here then I am sharing with you the best possible solutions which you can use to regain access to your disabled Facebook account.
To get access to your blocked Facebook account you can either submit the appeal here and wait for their reply and also you can directly email them at disabled@facebook.com explaining all the issues and also provide them with your Facebook ID link, official email, number, and valid ID proof.
Also if your account isn't disabled by mistake then you can also explain to them the reason and also request them that will not happen again.
Usually, the chances of reactivation of a disabled Facebook account are low if it's disabled due to your own mistake. Still, you can try it as a last resort.
Frequently Asked Question
Which Government-issued ID Cards are accepted in Facebook Verification?
Any government-issued ID is acceptable as long as the name and dob are visible completely. You can hide any of the other information on the ID if you like so.
The most commonly acceptable IDs are Passport and Driving Licence.
How much time does it take to verify my Facebook verification?
It usually takes 24-48 working hours to successfully verify your facebook verification and to unlock your Facebook ID. Sometimes it verifies within 2-5 minutes also.
Is it safe to upload our selfie or Govt ID on Facebook for verification?
Yes, it is perfectly safe to upload your selfie or government id card on Facebook, as Facebook deletes it from its server as soon as the verification process is completed.
Can I use a fake Govt ID or Selfie in this Process?
I would suggest you not upload a fake Govt ID or Selfie as it will lead to permanent account disable, so you should only need to provide them with real info. If you were using a different name or DOB on your account then the best way is to provide them with what's real and ask them to make changes to your account as well.
What are the chances of Re-opening of Disabled Account
Usually, if it's done by some error then you will get your account back within 24-48 working hours. If it's disabled due to some inappropriate behavior then the chances of reactivation depend on the severity of your mistake.
How to Get Back a Temporarily Blocked Account on Facebook?
If you got facebook verification on your account then in most of the cases you will get back your account as soon as you complete the verification. In some of the cases, it might go on manual verification and will take up to 48 hours.
Conclusion
Hope this article helps you to bypass the Facebook verification process properly and you are now able to login into your Facebook account properly.
You can easily bypass Facebook verification as long as you are only following the genuine way to do it. You should never take any shortcut for this. There are various other methods that you will find on many other blogs, but we don't suggest you try them as you might also end up losing your Facebook account permanently.
If any of your information is different on Facebook than your govt ID, then we suggest you use it only and ask them to open it and change the details to your real info as soon as you get back your account.
If you have any other queries for you might be facing any issue with the Facebook verification then you can either contact us or comment below.